Edward Bernard Cribb
Captain
23RD SPEC WARFARE AVN DET, 5TH SF GROUP, MAAGV
Army of the United States
02 February 1939 - 26 August 1963
Cactus, Arizona
Panel 01E Line 027
The database page for Edward Bernard Cribb
29 May 2005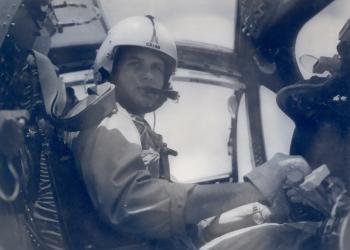 Edward Bernard Cribb was shot down while piloting a Gurmann Mohawk twin engine recon fixed wing aircraft on August 26, 1963. His Mohawk was hit by enemy fire and there was insufficent time for him to eject.
I am a fellow Vietnam veteran - I served as a grunt (MOS 11C) with Company E, 1/7, 1st Cavalry, based out of Bien Hoa, South VietNam. I married Edward's sister Deidre in 1976.
Don Gibson
donald_m_gibson@hotmail.com

06 Aug 2007

Ed Cribb was one of my high school buddies. We went through high school ROTC together. Ed boot-strapped into OCS and I was commissioned through College ROTC. We were both in the Army at the time Ed was killed. My wife and I met his widow after he died; she showed us a picture of his son, who he had never seen - he was Ed's spitting image. Ed was a true hero, and there is not a day goes by that I don't remember him, and mourn his loss. Our high school class will have its 50th reunion this year (2007). His image will be prominently on display there. His passing was a great loss to us all.

John Marshall
paladin@outdrs.net

A Note from The Virtual Wall
Captain Bernard Cribb was a pilot with the 23rd Special Warfare Aviation Detachment, then based out of Nha Trang and Vung Tau. He was flying OV-1C tail number 61-2707 with an ARVN observer when his aircraft was hit near Thua Duc approxroximately 24 km south-southeast of Go Cong. As far as is known both men died in the crash.
Captain Cribb had survived the crash of OV-1C 61-2702 on 09 Mar 1963; he spent two days on the ground before being picked up on 11 Mar 1963.
---
With all respect
Jim Schueckler, former CW2, US Army
Ken Davis, Commander, United States Navy (Ret)
Memorial first published on 06 Jun 2005
Last updated 03/15/2008