03 Aug 2004

From the yearbook of Lenox School for Boys 1961: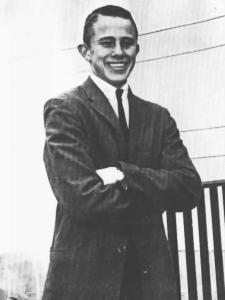 ROBERT LEROY CROSBY
163 Railroad Avenue
Hamilton, Massachusetts

"Hey, Ma!" This was the common cry that both students and masters shouted at Bob's approach. Bearing the brunt of occasional light ridicule Bob nevertheless came through in fine form and established himself in the top ten of the class academically. Although he was often seen griping after taking a difficult test, it was very seldom that he received less than an honor grade.

"Ma" was also an avid sports enthusiast. Although lacking the size of some boys, Bob demonstrated agility and stamina and attained first team positions on Varsity Hockey and J.V. Lacrosse. Mention should be made of his unflagging interest in Fall Tennis of which Bob was unofficial captain this year.

Nat'l Merit Letter of Commendation 6, Pen and Scroll 5, 6; Acolyte 4, 5, 6; Chemistry Club 5; Hockey J.V. 5, Varsity 6; Lacrosse 5, 6; Varsity Club
After graduation, Bob went to Cornell University and graduated with an engineering degree. He was, I am told, accepted into a master's degree engineering program at Cornell and due to return there.
Thirty years after Bob Crosby's death one of his high school teachers wrote this:
"...Bob Crosby's death was singularly tragic since he died, as you probably know, just as he was to be brought back from Vietnam and in an accident, not in combat. His mother was distraught. One of the gentlest and kindest boys, he well deserved his somewhat eccentric nickname of "Ma" Crosby, but those lower formers over whom he rode herd worshipped him and he was good for them..."
Another classmate wrote, "As I age, I think more and more of Bob and the wonderful future he had ahead of him.".
Robert Crosby is mentioned in several places in Douglas Brinkley's book Tour of Duty. One of the most poignant is an author's note on Page 481:
"Bob Crosby was a greatly loved figure in the Swift Boat community. Numerous men I interviewed told me stories about him..."
Many of Robert Crosby's classmates write of this classmate's death often. It was and is a profound loss for us. For some , it intrudes upon our thoughts and consciences even years later after the death and years after we last saw him. You see, there is a tear that clouds the vision and memory of some. And for this classmate, Robert Crosby, his classmates will always have a tear.
You see, our class really liked Robert Crosby and we miss him greatly.
Howard Prestwich
216 W. Stephenson Street
Freeport, IL 61032
815-233-0915
E-Mail will be forwarded by the
Webmaster@VirtualWall.org



---

27 May 2005

Robert Crosby was shot aboard Swift Boat PCF-13 by a round accidentally fired from the rear .50 caliber Browning machine gun. The distance was 3-4 feet. Also injured in the incident was Lieutenant (junior grade) John W. Hoeche. This happened September 24, 1969 at about 6:28 PM. Crosby was on board as instructor, Hoeche and his crew as under instruction. Hoeche was injured by the muzzle blast but administered almost immediate first aid and comfort to Cosby and continued to do so until placed in a stretcher.

The gun and expended shell were later examined at the Naval Armory on site. The gun was "in excellent condition" but the chamber was "badly corroded". The ammunition was "in a similar (green) corroded state". They thought "the round was in the chamber at least 24 hours prior to being fired". The firing mechanism and trigger release "pressure was normal". The base of the expended shell was measured with a micrometer and the outside diameter of the base was increased .005 inch compared to the next shell in line in the belt. This expansion was thought insufficient to account for it not being automatically extracted. Those examining the gun felt the expended cartridge failed to extract from the T-slot due to the poor state of cleanliness in the T-slot, lack of lubrication and corrosion on the base of the cartridge. It was also determined that the weapon was locked in elevation at 5 degrees and at 170 degrees to train. This would mean the barrel was pointing slightly above level, and aimed almost directly astern.

The vessel was assigned to Crosby and Hoeche for a coastal patrol at about 5:00 PM that day. The officers and crew prepared the boat for a patrol. At 6:10 the crew removed the canvas cover on the rear gun 75% of the way. A crew member noted a belt of ammunition fed into the gun. The top cover plate of the weapon was unlatched. The crew was surprised that the belt with ammunition was fed into the gun. They noted two shells were inboard of the feed pawl. The crew did not look into the receiver. The belt was removed.

One crew member attempted to pull the bolt of the weapon back with the cocking handle. He only pulled the bolt back 3/4 of an inch when his hand slipped on the handle and the bolt went forward again. The crew member changed his position and after wiping his hand, pulled again with his right hand but he slipped and hit the trigger with his left thumb, said a witness. The gunner said the weapon discharged as he started to pull back the cocking handle.

The ambulance took Crosby to the 95th Evacuation hospital, Danang, about 7:00 PM September 24th. Then on September 26 he was transferred to the Third Field Hospital Saigon, where he died.

Lt Commander Paul E. Dodson, Jr. conducted the investigation into the incident. The documents released to me under the Freedom of Information Act total about 100 pages.

I think some of the participants might not be fully aware of all the facts of the case such as how the gun was accidentally fired and events of PCF-13 in the hours just before the incident. The book by the Zumwalts, My Father, My Son (1986), which is dedicated in part to Robert Crosby, deals with the incident and leads me to this conclusion.

The Hoeche crew arrived in Vietnam on September 14 1969, ten days before the incident, and reported to Coastal Division 12 on September 16. The crew's first patrol together was to be this patrol. The crew started out that day on PCF-78, departing just before noon on the 24th. But they returned about 2:00 PM for repairs, went out again and returned. They decided that PCF-78 was in no condition to go on patrol and to transfer to PCF-13. They transferred their gear and supplies to the new vessel.

On September 24, PCF-13 was used in another training mission. A quartermaster received permission to take PCF-13 out for his ground school of six Vietnamese sailors. He got underway at about 2:30 PM and went to Danang harbor for drills. The first hour was spent on man-overboard drills using the life ring. Then he spent time on radar tuning and taught the students how to use the Decca 202 radar. They did bumper drills at the Vietnamese Naval Base. At 3:15 a skimmer informed him to return to base and he arrived there at 3:30 PM. The quartermaster gave a statement but the Vietnamese personal were not interviewed. He said none of the students tampered with the after mount.

PCF-13 was used on patrol by another crew, the Zumwalt crew, on the night of September 22. The weapon was fired that night at a Sampan. They towed the Sampan and went out on patrol 3:30 AM the next morning and patrolled until about 11:00 AM that morning. The boat was returned to dock at about 3:30 the afternoon of September 23. The gunner for the rear mount left the weapon unloaded and his crew members back him up, especially his vessel commander. One crew member said the top door of the .50 was opened and the belt removed, the operator jacked the handle back, removed the round which fell to the deck. It was thrown overboard. They left the rear gun with one round of the ammo belt inboard of the feed pawl.

The investigator's original conclusion was that the incident was not caused by the intent, fault, negligence or inefficiency of Navy persons. The second review of the report by J. J. Shanahan did not agree with this conclusion as did subsequent persons in the chain of review, but fault was never assessed.

I conclude generally in war there are terrible mistakes. The remembrance of these errors can be fearsome and painful. It is my hope that the dark of night brings each sailor peace and the dawn of day brings new hope for accomplishment and fulfillment. Sleep should bring each sailor and former sailor dreams of home.

From a classmate,
Howard Prestwich
216 W. Stephenson Street, Freeport, IL 61032
E-Mail will be forwarded by the
Webmaster@VirtualWall.org