Ralph Heman Crowley
Sergeant
A CO, 4TH BN, 21ST INFANTRY, 11 INF BDE
Army of the United States
30 December 1948 - 27 May 1969
Remus, Michigan
Panel 24W Line 113
The database page for Ralph Heman Crowley
04 Nov 2005

I met Ralph in late January 1969 when I was assigned to his platoon, which was already out in the field. Ralph was what you'd call a seasoned Vet. He was the kind of guy you wanted to stay close to, to increase your chances of survival.

On May 27, 1969 our platoon was ambushed while on patrol in the mountains and Ralph was killed. His death was a tremendous shock and loss to all of us.

You'll always be missed but never forgotten, my friend.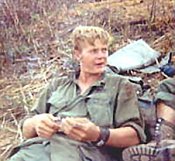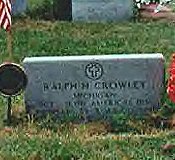 Please visit my full memorial to
Ralph Crowley

---
With all respect
Jim Schueckler, former CW2, US Army
Ken Davis, Commander, United States Navy (Ret)
Last updated 11/09/2005