Jack Lee Croxdale
Specialist Four
C CO, 2ND BN, 503RD INFANTRY, 173 ABN BDE
Army of the United States
20 November 1948 - 19 November 1967
Lake Charles, Louisiana
Panel 30E Line 023


The database page for Jack Lee Croxdale

27 Jan 2008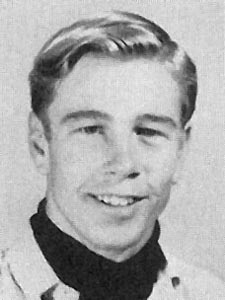 This photo of Jack Croxdale is taken from the Glendale (Arizona) High School annual for 1965, his Junior year.
From a schoolmate and Vietnam vet,
Frank C. Paden
frankpaden@comcast.net

A Note from The Virtual Wall
Jack Croxdale died in the bitter fighting for Hill 875. Two Medals of Honor, three Distinguished Service Crosses, and numerous Silver and Bronze Stars were awarded the men who fought there between 19 and 23 November 1967 - but at least 127 Americans died there as well, with hundreds more wounded.
A summary of the battle and a listing of the men who died
during the fighting may be found on The Virtual Wall's
Hill 875 Memorial
---
With all respect
Jim Schueckler, former CW2, US Army
Ken Davis, Commander, United States Navy (Ret)
Memorial first published on 27 Jan 2008
Last updated 02/03/2008