Born to Mary J DiRocco Crusie and William Michael Crusie, Sr., William Jr grew up in Wappingers Falls with his older sister Mary Ann, and younger brother Kenneth. Bill attended the Wappingers Falls Junior High School and Roy C. Ketcham High Schools. He was tall, lanky, good looking and an athlete in High School, an outstanding basketball and football player. He graduated in 1966 to attend Dutchess Community College in Poughkeepsie, graduating from there in 1968.
He wanted to serve his country so he enlisted in the Army in October of 1968. He completed his basic training at Fort Dix, New Jersey and by March of 1969 he was directed to Vietnam, arriving there to start his 13 month tour on March 26, 1969.
From the introduction of American troops in Vietnam, much of the battle was fought in Tay Ninh Province to the Northwest of Saigon. It was the end of the infiltration routes from Cambodia into the Saigon area. In March 1969, it was still 'hot' in that area.
Since January 1969, the 25th Division's focus was to preempt the enemy's planned Winter-Spring Offensive and any new offensive actions in the Tay Ninh Province. The plan was to hit them in their staging areas with heavy pressure from infantry, rapid reaction to contact, and massive firepower in every instance. Tay Ninh was pinpointed as the major battle field in the enemy's next offensive.
During June 1969, the enemy launched a series of attacks which constituted the second phase of their Summer Offensive. The main thrust of their attacks centered in Tay Ninh Province, the 1st Brigade 25th Infantry Division's area of operations. The 9th VC/NVA Division moved to take Tay Ninh City in order to seize and hold a portion of it in order to announce the establishment of Tay Ninh City as the capital of the National Liberation Front (NLF) Provisional government. The enemy also hoped to show the local villagers that allied forces could not protect them.
The attack on Tay Ninh City came after the enemy had scouted the U.S. and ARVN installations while avoiding contact. On 5 June, the enemy began their offensive from the northwest, southwest, south and east of the city. The 4th Battalion, 9th Infantry, airlifted in at 0550 hours, intercepted them in the Renegade Woods. Four Americans were killed and 14 wounded with a loss of 45 enemy soldiers in the Renegade Woods contact and another killed in an early morning ground attack at LZ Stoneman, 12 kilometers south-southeast of Tay Ninh City. The U.S men killed during the contacts were:
C Company, 4th Battalion, 9th Infantry, 25th Infantry Division

D Company, 4th Battalion, 9th Infantry, 25th Infantry Division (LZ Stoneman)
Like many of the American Fire Support bases duirng the war, FSB Crook had been established in April 1969 to interrupt the VC and NVA's supply routes to Saigon. The day after the contact in Regegade Woods, on 6 June 1969, William was on FSB Crook when it was attacked by a battalion sized enemy assault. Ghe fighting was heavy.
Bill Crusie had been assigned to a listening post (LP) about 50 yards outside of the base's perimeter to listen for enemy movement and alert the base. When the incoming mortars started, the 3 man crew kept their heads down and at the first lull, they made a run for the berm line. However, somewhere between the LP and berm, they were hit. Bill was severly wounded and they dragged him inside the wire and got him to the Battalion Aid Station. He died of his wounds.
Two men were killed during the attack on FSB Crook, William and SP4 Joseph Valesko, another New Yorker from Canandaigua, New York.
As a result of their efforts, both men were awarded a Silver Star Medal, the nation's third highest military award.
PFC Crusie was survived by his mother Mary, father William, sister Mary Ann, and brother Kenneth. After Bill's death, his mother dedicated the rest of her life to volunteer work to such organizations as the Castle Point Veterans Administration Facility in Wappingers Falls, Meals-On-Wheels, volunteering as an active member of Gold Star Mothers, the Mother's Guild at St. Mary's Church and the Ladies Auxiliary of V.F.W. Post 5913. She was also given the honor of placing a wreath at the Tomb of The Unknown Soldier in Washington, D.C.
She was married to husband Bill for 53 years, who died in 2003, at the age of 82. Mary passed away on June 8, 2012 and laid to rest with her husband and son in Saint Mary's Cemetery, Wappingers Falls, Dutchess County, New York. Ironically, it was June 8, 1969, 2 days after her son's death and 43 years to the day, that President Richard Nixon announced the withdrawal of 25,000 troops from Vietnam.
Mary was survived by her children: daughter, Mary Ann Rose; son, Kenneth Crusie and his wife, Theresa; a brother, Tony DiRocco; grandchildren and great grandchildren. Patriotism still runs in the Crusie family, as Kenneth's son is serving today in the Navy, as did his grandfather.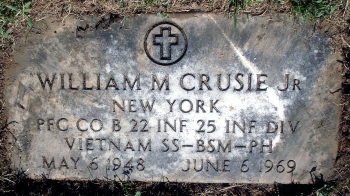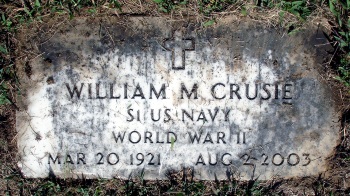 ---
- - The Virtual Wall, September 14, 2014