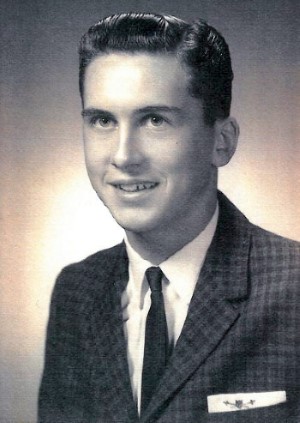 The first Battalion, 5th Cavalry lost two men on 16 September 1966 and it's unknown if they were in same incident involving both Company A and C. The two men were:
John Rudolph "Rudy" Cummins, Jr., the son of Winnie Pauline Lavender and John Rudolph "Rudy" Cummins Sr. Rudy (Jr) grew up in a Veteran's family as his father and two Uncles were in the United States Army Air Corp during WWII. Rudy Sr was a fighter/bomber pilot who received the Distinguished Flying Cross for saving a crashed fellow pilot.
Rudy Jr's father was born in Negra, New Mexico and grew up in Lake Arthur, New Mexico. Rudy Sr followed his two brothers, Ferron and Gurvis, by joining the Army Air Corps and he received his wings in July 1943 in Selma, Alabama. It was there that Rudy's father met his mother, Willie Pauline Lavender, an Alabama southern beauty, and married her on Oct. 30, 1943 in Waycross, Georgia.
Rudy Sr was transferred overseas as a combat pilot in January 1944 to North Africa, Sicily, Corsica, and Italy. After WWII, the family was involved in several different kinds of businesses and worked in various vocations, mostly in excavation and road construction. Roswell has always been John's primary home although his work had the family living for awhile in Alabama, Nevada, Gallup, and Albuquerque, New Mexico.
When Rudy Jr was killed in Vietnam, his father was in the process of closing a business in Alabama and moving back to Roswell after burying his son.
Rudy was survived by his mother, Willie Pauline Lavender and father John Rudolph Cummins, Sr. (1922-2011), of Roswell, New Mexico, his sister, Mettie P. Lavender Cummins; his brother, Ernest Terrance "Terry" Cummins; and his paternal grandmother, Nimmie Hazel Kenmore Cummins (1897-1992)
Rudy Jr was preceded in death by a brother, Ernest Lawrence "Little Larry" Cummins, an infant; and his paternal grandfather, Ernest L Cummins (1896-1964).
Rudy Jr and Sr were interred at South Park Cemetery on South Main Street, Roswell, New Mexico. Rudy's paternal grandparents are also interred there.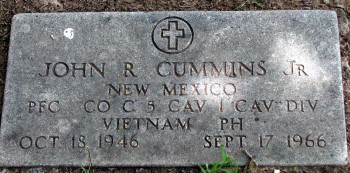 ---
- - The Virtual Wall, November 10, 2014