Ralph Custode
Sergeant
B CO, 1ST BN, 18TH INF RGT, 1 INF DIV
Army of the United States
13 October 1948 - 18 October 1969
Colonia, New Jersey
Panel 17W Line 087
The database page for Ralph Custode
05 Mar 2005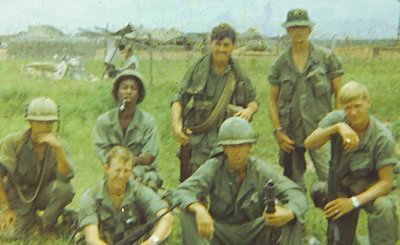 Ralph has the .50 cal ammo over his shoulder.
I am in the front row directly in front of Ralph.
Next to Ralph, smoking the pipe, is Jose Yates.
I had the pleasure of serving as a member of Ralph Custode's squad. I will never forget what a wonderful person he was. I considered him a great leader and a good friend. All he ever wanted to do was return home and play his banjo. Even today, after all these years, he is in my mind, heart and prayers. I shall never forget you, Ralph!
George Moriarty
celticcrossing@comcast.net

The point-of-contact for this memorial is
a friend who served in the same squad,
George Moriarty
celticcrossing@comcast.net
7 Mar 2005
---
With all respect
Jim Schueckler, former CW2, US Army
Ken Davis, Commander, United States Navy (Ret)
Last updated 03/13/2005