The 1st Bn, 77th Armor lost 3 men on 22 March 1971 when their night defensive position came under an artillery, rocket and mortar attack by unknown size enemy force. Another unit in the 5th Division lost one man on this day when the base camp, 12 kilometers west-southwest, of the Khe Sanh Airfield, came under enemy artillery fire. They were:
Christoper Zeno Czarnota, born to Helena and Joseph H Czarnota. Very little has been found about the boyhood years of Christopher and his family. He began his tour in Vietnam on October 4, 1970. As an Infantry Operations and Intelligence Specialist, PFC Zarnota was also a dog handler for the Army. He did not have a dog as part of his duties at that time.
Chris was survived by his mother Helena (1926 - ) and father Joseph (1920-1992) who were living on 192 William Street, Perth Amboy, New Jersey at the time Christopher was killed in Vietnam.
Father and son are buried in the same plot at Saint Gertrudes Roman Catholic Cemetery, Colonia, Middlesex County, New Jersey.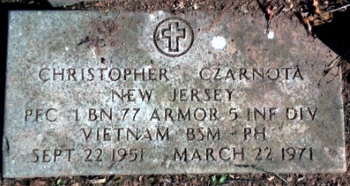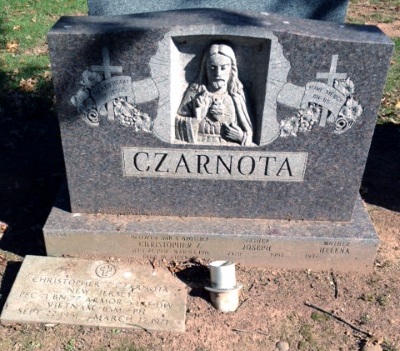 ---
- - The Virtual Wall, September 15, 2014