In addition to the Bronze Star for Valor, and the Purple Heart documented automatically, Robert was awarded another Bronze Star medal for either Service (10-4-67 to 7-2-68) or Meritorious Achievement and another Purple Heart for wounds received earlier in his tour.
Bronze Star for Valor
(2nd Award - Oak Leaf)


Purple Heart
(2nd Award - Oak Leaf)


According to his friend, Bill Schnieder, he was the toughest guy he ever met. "D", as he was called, had an immediate combat wisdom that some never acquired. He walked point a lot because he could focus, had eyes like an eagle, and never missed a booby trap or enemy sign. Robert was fearless and others sought his advice and counsel; ALL in the company sought it.
Bill had many stories about 'D'. They made Sergeant the same day and survived Kham Duc together. On 2 July 1968, Robert's platoon stayed behind in the night lagger to secure it for the Hueys to come in and pick up company mortars. The rest of company were within eye-sight, filling in their foxholes.
The noise of the arrival of the Huey's covered the sound of the incoming enemy mortars. The mortars missed the Hueys, landing in Bill and Robert's sector and the enemy were 'walking' the mortars in the wrong direction. They corrected their aim and walked their mortars back through the sector on the way to the Hueys in the LZ. By that time, the Hueys had departed.
But 14-17 of the men in the 2nd plt were hit by the mortars. Fortunately the enemy were using small 60mm mortars. The Huey turned around and relanded almost immediately taking the first load of wouned to Chu Lai. The company medics responded to the wounded in just a few minutes. But a small piece of 60 mm hit Robbert n the head.
Bill made the following comments: "After all you went thru, close calls, we thought you were invincible, the quintessential Grunt. The last time I saw you was in the Chu Lai hospital. It was hectic as doctors and nurses scrambled to take care of all the wounded, but you where laying on a stretcher so calm and serene, as you always were."
"Your name is brought up often at every reunion; some new stories I've never heard. I visited your Mother and cousin in Bunkie and your grave [Bayou Rouge Baptist Cemetery, Evergreen (Avoyelles Parish), Louisiana]. Later met your brother in Louisville. I miss you a lot, but think you were born to be a soldier, a Grunt; you were so perfect at it. I cannot imagine being at this point in my life without ever knowing you. May God Bless the Infantry."
Robert and his father James are buried in same cemetery in Evergreen, LA. He was survived by his parents James Sr and Katherine S. at the time of his death.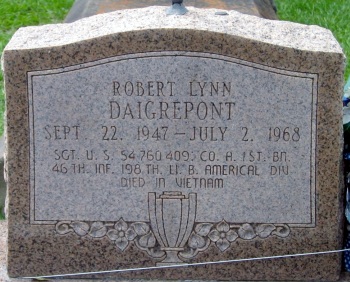 ---
- - The Virtual Wall, September 15, 2014