Leslie Aaron Dalrymple
Corporal
A CO, 2ND BN, 60TH INF RGT, 9 INF DIV
Army of the United States
12 October 1949 - 20 November 1969
East Wilton, Maine
Panel 16W Line 098
The database page for Leslie Aaron Dalrymple
20 Mar 2005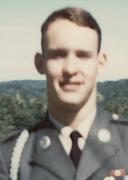 Leslie
An awesome big brother, a wonderful son, and a brave young man.
You are always in our thoughts and our hearts.

With Love,
Mom,
Brian, Lynn, and Karen
A Note from The Virtual Wall
Alpha 2/60th Infantry lost two men on 20 Nov 1969: SGT Billy R. Marshall of Ruston, LA, and CPL Leslie A. Dalrymple.
---
With all respect
Jim Schueckler, former CW2, US Army
Ken Davis, Commander, United States Navy (Ret)
Last updated 06/06/2005