Company A, 3rd Battalion, 7th Infantry Brigade, was conducting a search and destroy mission on January 27, 1969 in Long An Province, South Vietnam, near the city of Tan An.
The unit was inserted by helicopter and began a sweep. While crossing a field, the company was taken under fire by enemy machine guns. During the initial fire four men were wounded. PFC Conger moved up to attempt to knock out the machine gun nest and was reportedly wounded in the right shoulder and neck. Attempts to recover Conger and five other wounded individuals at that time were unsuccessful because of continuing fire.
Later in the afternoon, after the unit withdrew from the area, and they did not attempt to try to recover the men from the contact area during the darkness. On January 28, U.S. ground forces cordoned off the area. but an attempted sweep of the area failed due to heavy enemy fire. U.S. artillery and aircraft shelled and bombed the area as a result.
On the 29th, the bodies of 5 Americans were spotted by an observation helicopter lying in an open area where they had fallen the previous day, but shortly after the spotting, the helicopter was shot down. Although the area had been secured, Conger and the other individuals could not be located.
On October 13, 1969, the remains of the individuals who had been missing with Conger were found, but no trace of Conger was located. No further searches were conducted.
---
The unit lost a total of 6 men from this event. They were:
SP4 Davis was survived by his wife Margaret J Davis (no children) who was residing in Dyersberg Tennessee and his parents, Mrs and Mr Roba Davis from Gleason.
On February 16, 2004, Aubrey's mother, Clara Elizabeth Weedman Davis, passed away at the age of 83. Her obituary states, in part, "...Survivors include three sons, Hubert Davis of Newman, Ga., Robert Paul Davis and James W. Davis, both of Gleason; a daughter, Linda Davis of Gleason; ..." "In addition to her parents, she was preceded in death by her husband, Roba Davis; a son, Aubrey Guy Davis; and a brother, John Robert Weedman. " She is buried in Hopewell Cemetery, Gleason, Weakley County, while SP4 Davis is buried in Fairview Cemetery, Dyersburg, Tennessee. It is undetermined where Roba Davis is buried.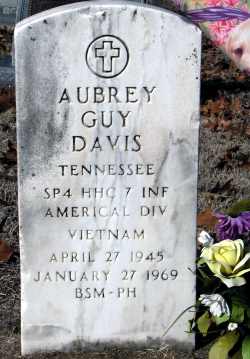 CPL AUBREY GUY DAVIS
- - - The Virtual Wall, April 17, 2014