Robert Eugene DeCelle
Captain
A TROOP, 3RD SQD, 17TH CAV RGT, 1 AVN BDE
Army of the United States
18 October 1945 - 21 February 1971
Alameda, CA
Panel 05W Line 128
The database page for Robert Eugene DeCelle
22 Aug 2002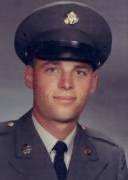 To my father,
Thanks for planting my seed.
To the members of 3rd Squadron, 17th Air Cavalry,
thanks for helping me understand who my father was during the war.
From his son,
Aaron Lewis DeCelle
2572 Mangan Street, Eugene, Or 97402
decellea@msn.com
Virtual Wall Notes
On 15 February 1971 an OH-58A scout helicopter (tail number 68-16960) was hit by enemy fire and went down in the vicinity of the Cambodian border. One crewman, SP4 Tagipo V. Tauala, was killed and the pilot, CPT Robert E. DeCelle, severely wounded. Captain DeCelle was MEDEVACed out to the 93rd Medevac in Long Binh, where he died on 21 February 1971.
DeCelle had been providing close support to a pinned-down infantry unit when he was hit. His actions warranted award of the Silver Star Medal, which was presented to Captain DeCelle by Colonel Fern (Commander, 12th Combat Aviation Group) before DeCelle's death.
Additional information is available on the
3/17 Cav "Silver Spurs" site
The point-of-contact for this memorial is
his son,
Aaron Lewis DeCelle
2572 Mangan Street, Eugene, Or 97402
decellea@msn.com
22 Aug 2002
---
With all respect
Jim Schueckler, former CW2, US Army
Ken Davis, Commander, United States Navy (Ret)
Channing Prothro, former CAP Marine
Last updated 08/22/2002