05 Nov 2007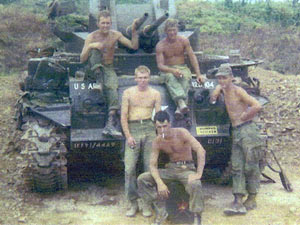 Don Derosier * Cleve Lanier
Les (Red) Deitze * Cooper Thoams
Don Wolfe
SGT DON DEROSIER
YOUR SQUAD STILL MOURNS AND HONORS YOU, SERGEANT
We remember your kind ways and determination to have the best crew.
We often wonder why with two weeks left to serve you were called away. That day, August 30th, 1967, you were wounded and forever left an empty space in our hearts. Les "Red" Dietze still thinks about the times he kidded around with you about sending letters home to your girl friend. Cooper Thomas remembers all the good times he had with you in training at Fort Bliss, Texas ... the trips you made to Mexico and the crazy things young men do. The [FNGs] Cleve Lanier and Don Wolfe that made the crew of C-131-DUSTERMEN, the best there was.
Time went on after you left us, Sergeant, but we were never the same. We missed your smile, your never-ending leadership that kept us all together. The day the news came that you passed on December 3, 1967 was a sad day forever in our hearts. We salute you, Sergeant, and keep a space here in our hearts and mind for you.
DUSTERS UP!
From the C-131 DUSTER crew members,
Red Dietze, Cooper Thomas, Don Wolfe, Cleve Lanier
SGT Don Derosier and Crew.......
Placed by Don Wolfe
bump_mag@hotmail.com