Son of Freda Arlene "Peg" (Drake) and Jack N Dodson, Jack "Butch" Dodson grew up in Kimberly Idaho where he graduated from Kimberly High School in 1956.
High School Photo
After high school, Jack continued his education at the University of Idaho, where he was also a member of the Phi Kappa Tau fraternity.
1959 University Of Idaho Yearbook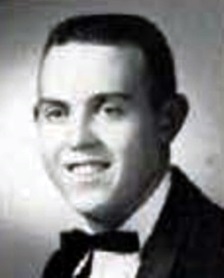 He married his first wife Bonnie Lou McClure on 27 December 1960 and they had one daugther, Theresa K., before the marriage ended 19 October 1963. He married Donna L. Bertoch on 16 March 1965. She had two children, Becky and Brian from her first marriage. Jack and Donna had a daughter Jacqueline from their marriage.
Before he was called up for military service, he was employed by Safeco, where he was the general manager for operations in the state of Idaho. Highly interested in civic affairs, Jack served as the president of the Twin Falls Jaycees during the 1960-1961 year. He was a member of the Elks Lodge, the baptist church, and the Parachute Club of Boise, Idaho.
After his call up into the Army in January 1964, he applied for and completed Officer Candidate School (OCS) and received his commission as a 2nd Lieutenant. In 1966, he then completed Flight School Class 66-20 in the Rotary Wing Aviator Course to become a U.S. Army Helicopter Pilot. He was then assigned to the 191st Assault Helicopter Company stationed at Fort Bragg, North Carolina where they began training and preparation to deploy the unit to Vietnam.
When the 191st completed training in May of 1967, the unit deployed to the Republic of Vietnam. Jack was a member of the unit's Advance Party. They made preparations in Vietnam for the rest of the unit to arrive. He suffered his untimely death while undergoing in-country training with another helicopter unit's and their equipment.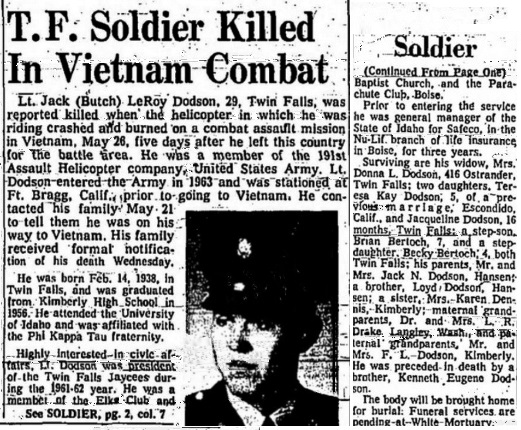 The 191st had just been formed and the advance party had arrived in Vietnam - with CPT Kidd heading up the Armed Platoon - but their helo's had not gotten into country yet. Both CPT Kidd and 1LT Dodson were eager to get into the action and talked D/3/5 into getting familiarization and experience. As a result of a night mid air collision, these two men were the first two men of the 191st AHC to be killed in action.
At approximately 2100 hours, a light fire team consisting of aircraft 66-677 and 66-673 were called out by the 51st ARVN Ranger Battalion, Ben Luc Vietnam, to investigate suspected Viet Cong activity. The team arrived on station at approximately 2130 hours. They began a visual recon of the area with the assistance of flares fired by the artillery. At 2230 hours, the two aircraft met in an apparent head on collision in bad weather. There was an explosion and both aircraft fell to the ground in flames.
The nine men killed when their helicopters collided in mid-air and crashed were:
D Troop, 3rd Squadron, 5th Cavalry, 9th Infantry Division (Tail Number UH-1C 66-00677)
D Troop, 3rd Squadron, 5th Cavalry, 9th Infantry Division (Tail Number UH-1C 66-00673)
WO Robert Wilkson Cook, Claiborne, Maryland (Pilot)
SP4 Rodger Lee Fortune, Santa Ana California (Gunner)
SP4 Melvin Louis Martz, Manton, Michigan (Crew Chief)
CPT Robert Lloyd Mosher, Newport, Rhode Island (Aircraft Cdr)
191st Assault Helicopter Company (AHC), 214th Avn Battalion, 12th Avn Gp, 1st Avn Bde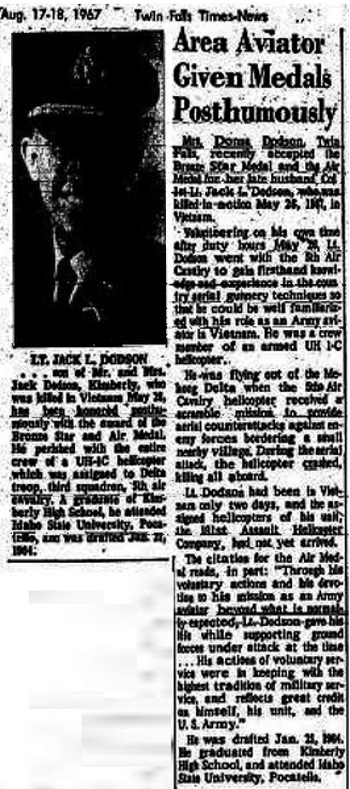 At the time of his death, Jack was survived by wife Donna L. (Twin Falls), daughters Theresa K. age 5, Phoenix, and Jacqueline (16 months), step son Brian (7) and step daughter Becky (4); his parents, Freda (1917-2008) and Jack N. Dodson (1917-1996), Hansen, Idaho; brother Loyd and sister Karen, of Kimberly. He also was survived by his maternal grandparents, Dr. & Mrs L.R. Drake, Langley, Washington and paternal grandparents Mr & Mrs F.L. Dodson, Kimberly. He was preceded in death by a brother Kenneth Eugene Dodson (1939-1939)
1LT Dodson was laid to rest at Sunset Memorial Park Cemetery, Twin Falls, Idaho, as was his brother Kenneth and Mother, Freda and pending verification, father Jack N Dodson.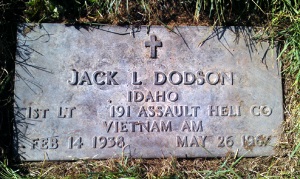 - - - The Virtual Wall, August 29, 2016