28 Sep 2005

My brother, Ronald E. Doughtie, was the pilot killed along with John Paul Vann 0n 06-09-72. I would like to hear from the gentleman who worked the investigation or any others who have information to share regarding Ron's time in Viet Nam. I have heard so many different stories over the years and would like to know first hand what happened.

I know Ronnie loved the Army and was a career "Lifer." He served both as an enlisted man and officer just like our Dad. Our Dad joined the Army cav on horseback in the late 20's and later became a member of the Army Air Corps and was a Bombarder on B-17's in WWII. Later he became part of the Air Force and fought in Korea. He retired as a LtCol after 28 years. He then went on to work civil service for the Air Force for another 17 years. I was in the Navy and got out in 71. I then was a law enforcement officer for 30 years, now retired.

Ron is missed! I don't think I ever saw him again after about 1968 or 1969 as I was in the Navy and he in the Army. His kids are now grown and are wonderful. They live in Pennsylvania.

Thanks again and feel free to contact me or pass along info any time.

From his brother,
John Doughtie
brysoncity@comcast.net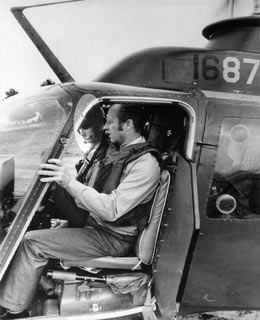 John Paul Vann, Senior Military Advisor seen here in his helicopter with his pilot, 1LT Ronald E. Doughtie. This picture was taken outside Kontum City, June 6, 1972, three days before the fatal crash.