22 Sep 1998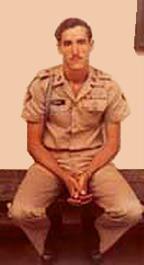 We know very little about what happened to my Uncle Billy.
We would like to hear from friends who could tell us about his life, his unit, his other friends, and also how he died.
Please send email to
Anitra Duke
angel_wingz@comcast.net

Thank you.


---

27 Sep 2005

I thought that I would like to tell you all a little bit more about why it is so important for me to find out about my Uncle Billy. So here it is.

My Uncle Billy was killed in March 28, 1969. I was not born until November of 1974. Unfortunately I have never met my Uncle except in my dreams. You see for as long as I can remember any time I was upset, scared, or had something wrong in my life I have dreamed of him. The same dream over and over. I dream that this man who died before I was even born, while defending this country, was not really dead but lost somewhere in Vietnam. I dream that he finds his way home and is looking for me.

Now you have to understand that we were lucky that we got his body back and he is buried in his home town, now with his mother, father, grandparents, aunt, and even a cousin. My family was able to see his body and tell him good bye. For years I have wondered why I continually have this dream, and so I began to pray about this, and several years ago I got my answer.

His wife didn't stay close to the family after Billy's death so I can't remember ever having met her before, although I am sure that she came when my grandfather died but I was so young I don't remember. She and I had a long talk, I explained how I felt and she told me that, even though she has remarried and has children she still thinks of him every day. He was her first true love and she will never let him go either. Still to this day she grieves over him as do my father and his five other brothers and sisters. My grandmother grieved for him until her last breath and I thank God that she is now in heaven with him.

I have recently found out that Billy did not write home any names of the guys he was with. I am not sure why but I feel either he knew he was not coming back or he was afraid that they wouldn't come back and maybe just didn't want us to be looking for those who didn't make it back before him. I can't really be sure. I do know that he had buddies and a lot of them. He took pictures but now we have faces but no names.

His loving niece,
Anitra Duke

Billy, I never knew you but I love you!!!!


---

From his niece,
Anitra Duke
angel_wingz@comcast.net