The US Naval Forces Vietnam Command History contains the following entry:
"The most serious incident reported by CB units occurred on the last day of the month at 1445H on a waterway near Kien Binh (WS 406 036) where the bodies of five USN Seabees were found. All the bodies contained gunshot and fragmentation wounds. Investigation of witnesses disclosed that five U.S. personnel armed with 3 M-16s and one pistol had been sighted in a Boston Whaler by Vietnamese personnel an hour and a half before, and ARVN units reported seeing U.S. personnel in a firefight in the same area. A Vietnamese eyewitness account indicated two VC sampans engaged the whaler, which was later found abandoned, with grenade and AK-47 fire on the Kinh Thot Not Canal. The five Seabees were attached to NMCB 74 and traveling from Cho Moi to Binh Thuy for minor medical treatment."
The five Seabees from Naval Mobile Construction Battalion 74 were One other unit member died during the battalion's November 1970 to April 1971 deployment. He was killed when he was riding on a radio tower being moved by helicopter when his safety harness broke and he died as a result of the fall. He was:
---
At the time of his death, Jerry was survived by his wife Linda Smith Edmonds; 2 daughters, Tonie, 3 and Tracey, 5; his parents, Glendon Stewman Edmonds (1917 - ) and Jerry Baxter Edmonds Sr (1914 - 2002); a brother, Calvin Verlin Edmonds (1942 - 2000) ; 2 sisters, Faye and Mary Ruth; and his maternal grandfather, Henry Stewmon (1890 - 1972). He was a native of Bledsoe County.
Jerry was buried in Green Acres Memorial Gardens, Crossville, Tennessee as is his father and brother. His mother is 97 years young as of this writing.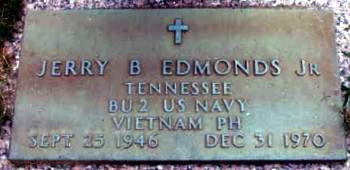 ---
- - The Virtual Wall, August 27, 2014