29 May 2007

Richard was killed in the first mortar attack on Saigon, November 1, 1966 in the city center of Saigon.

We lived in the McCarthy BOQ and he was a friend. He had been asked to wear his dress whites to sit in the reviewing stand with dignitaries to help fill out the National Day celebration's American presence. As he neared the reviewing stand just behind the National Catholic Cathedral, he was killed in a mortar attack. The round that killed him landed at the base of the statue of the Virgin Mary in front of the cathedral, digging a 12 foot crater. The story of the attack and his death appeared in The Washington Post, November 1, 1966, written by Post Staff Writer Eric Wentworth.

I had left the BOQ walking with him and stopped off at the MACV press center for a minute and told him I would catch up. I was about a block and a half behind him when I heard the incoming and dived into a tin bicycle shelter. I was a news correspondent and information officer the The American Red Cross. I recently went into my files and located the story and my notes after being contacted by long-lost friends from the McCarthy BOQ who had found on my web site, the section on our times there at, and the sad day Richard died, and how I narrowly missed getting it as well.

From a good friend,
Larry M Ray
larrymray@gmail.com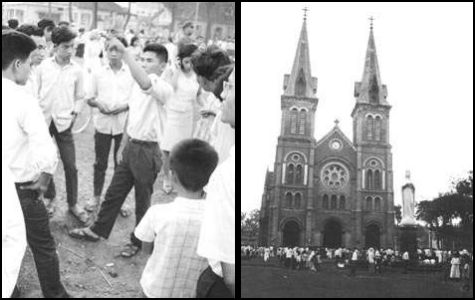 Saigon residents inspect crater and damage from morning VC mortar attack.
Richard was killed just feet from the base of the statue of the Virgin Mary.