Carl M Egolf
Specialist Four
643RD ENG CO, 815TH ENG BN, 18TH ENG BDE
Army Of The United States
15 August 1945 - 25 December 1966
Westminster, MD
Panel 13E Line 078
The database page for Carl M Egolf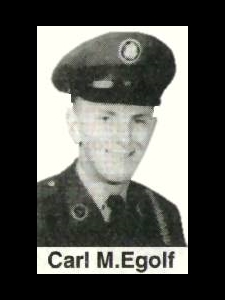 Carl M. Egolf drowned on Christmas Day, 1966, near Saigon, less than two months after going to Vietnam.
Egolf, a 1964 graduate of Westminster High School, was assigned to the 643rd Engineer Company. He was a construction engineer.
He was survived by his father, William Egolf, who owned E & O Contractors in Westminster, MD.
He was swimming at a military recreational beach when the accident occurred.
From the Carroll County (MD) Times
Memorial Day edition 1989
A memorial from a fellow Carroll Countian from Westminster.
LEMMER2@MSN.COM
16 Jul 2001
---
With all respect
Jim Schueckler, former CW2, US Army
Ken Davis, Commander, United States Navy (Ret)