Robert Arthur Eisenbeisz
First Lieutenant
389TH TAC FIGHTER SQDN, 12TH TFW, 7TH AF
United States Air Force
16 September 1946 - 11 February 1971
Seattle, Washington
Panel 05W Line 095
The database page for Robert Arthur Eisenbeisz
A Note from The Virtual Wall
On 11 Feb 1971 Captain M. W. Ford and 1stLt Robert A. Eisenbeisz of the 389th Tactical Fighter Squadron at Phu Cat were flying a close air support mission near Ba Long, some 12 miles southwest of Quang Tri City. Their aircraft, F-4D #66-7473, was hit by automatic weapons fire while pulling off from their third pass. Although Captain Ford successfully ejected and was picked up, 1stLt Eisenbeisz did not leave the aircraft before ground impact and was killed in the crash.
The Air Force Reserve Officer Training program's Robert A. Eisenbeisz Trophy is awarded annually in memory of Robert A. Eisenbeisz to an AFROTC Wing Commander or Deputy Commander who has demonstrated outstanding leadership potential and dedication and has maintained high scholastic standards.
The photo at the top of this memorial is believed to date from 1stLt Eisenbeisz' days at West Seattle (Washington) High School, where he was graduated in 1964; the one below was taken while he was attending the University of Washington in 1966.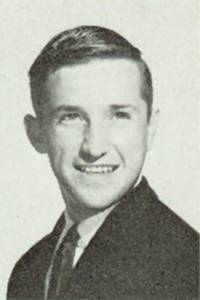 The point-of-contact for this memorial is
his son,
Steven Duane Eisenbeisz
860 E. San Bernardino Ave., Redlands, Ca. 92374
t8ku2dc@hotmail.com
24 Jul 2005
---
With all respect
Jim Schueckler, former CW2, US Army
Ken Davis, Commander, United States Navy (Ret)
Last updated 07/24/2005