Robert Gerald Elgin
Staff Sergeant
505TH INF RGT, 3RD BDE, 82 ABN DIV
Army Of The United States
09 January 1939 - 04 April 1968
San Francisco, CA
Panel 48E Line 002
The database page for Robert Gerald Elgin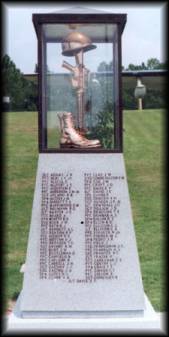 I really don't know much about my father,
but the stories I heard from my grandmother Rubye was that he loved his pancakes.

If they weren't uniform in shape I guess all heck broke out ...
they had to be perfectly round in shape or they weren't edible.

---

His name appears on the 82nd Airborne Memorial at Fort Bragg, NC ...
it is marked by a black dot on the photograph.
---
With all respect
Jim Schueckler, former CW2, US Army
Ken Davis, Commander, United States Navy (Ret)