10 Dec 2002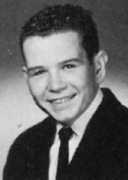 Remembrances from the class of "66"
South Eugene High School "AXEMEN"
Eugene, Oregon
Arthur
YOU ARE NOT FORGOTTEN - GOD BLESS AND KEEP YOU ALWAYS!
Bruce Dyer
USN
MACV Saigon 69-70


---

12 Feb 2004
Honoring our classmates.
South Eugene High School, Eugene, Oregon will have a Vietnam Memorial dedication Saturday, May 28, 2005 at 2 PM in remembrance of our classmates
* LtCol William R. Andrews, 433rd TFS (09/06/1974)
* LCpl William A. Beckwith, 3rd Bn, 4th Marines (07/04/1968)
* SGT James W. Cartwright, C Co, 3rd Bn, 12th Infantry (05/23/1967)
* Cpl Robert K. Collins, C Btry, 1st Bn, 12th Marines (12/08/1965)
* SP4 Arthur A. Erwin, A Co, 4th Bn, 503rd Infantry (07/10/1967)
* SGT Carlton C. Gray, C Co, 158th AHB (05/18/1970)
* PFC Carl F. Louvring, E Trp, 17th Cavalry (05/13/1967)
* LCpl Dennis E. Mickelson, A Co, 3rd Recon Bn (12/28/1968) (Silver Star)
* PFC William G. Muir, B Co, 3rd Bn, 8th Infantry (11/11/1967)
* PFC Kreg A. Viestenz, C Co, 1st Bn, 5th Cavalry (09/18/1968)
Additional information on these men is available in the Eugene, Oregon, Register-Guard article republished here.
For information pertaining to this event contact
sehsnammemorial@aol.com