Vance Martin Evans
Sergeant
E CO, 1ST BN, 27TH INF RGT, 25 INF DIV
Army of the United States
05 May 1949 - 23 October 1969
Altoona, IA
Panel 17W Line 108
The database page for Vance Martin Evans
10 Feb 2001

Vance Martin Evans was my uncle. He was a special man to not only my family but the community he grew up in. He had two sisters and 2 brothers. I never got to meet him as I was born 19 months after his death. All I have are family memories and pictures to rely on. He really touched a lot of lives with his kindness and his willingness to help almost anybody. Even though we lost Vance so many years ago, he will never be forgotten and his name lives on with my cousin who was named after him.

From a niece.
E-Mail address not available
03 Mar 2003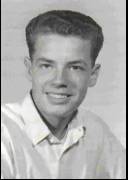 VANCE MARTIN EVANS
MAY 5, 1949 TO OCT 23, 1969
I'LL REMEMBER THAT OCTOBER MORNING WHEN THE SUN REFUSED TO SHINE
THE DAY I KNEW YOU WERE NO LONGER MINE
WE WEPT FOR THE MEMORY
I'LL REMEMBER WHAT THE ARMY MAN SAID WHEN HE CAME THROUGH THE LIVING
ROOM DOOR ...YOUR LIFE WITH US WAS NO MORE
WE WEPT FOR THE MEMORY
I'LL REMEMBER THE STRUGGLE WE FELT AS WE TRIED TO FIND REASON
THE U.S. WAS IN SUCH A BLEAK SEASON
WE WEPT FOR THE MEMORY
I'LL REMEMBER THE MEN WHO FOUGHT NEXT TO YOU IN WAR
THEY HAVE CALLED US WITH THEIR STORIES ... THEIR HEARTS SEVERLY TORE
WE WEPT FOR THE MEMORY
I'LL REMEMBER THE QUESTIONS OF WHERE YOU WERE NOW
ASKING GOD TO FIND A WAY TO SHOW US SOMEHOW
HE DID......WE WEPT FOR JOY
I thank God for each of these names and the families they
represent, and pray for the hearts of each life that has been
touched by these names. I pray that peace may live in the
gap that once was broken. That no matter what has
passed they become renewed ... not one man or woman
visiting this wall should carry the pain of thinking these
names are here because of an action they did or did not
take. If you are reading this please get free of that
responsibility ... it is not yours!
Those who trust the Lord
will find new strength.
They will be strong like eagles
soaring upward on wings.
They will walk and run
without getting tired.
Isaiah 40:31
GOOD-BYE MY BROTHER ..... WE WILL SEE YOU AGAIN ..... LOVE,
YOUR SIS ... HEIDI
Heidi
hlamber@msn.com
29 Sep 2003

I shall never forget the first time I felt Vance's name on the wall. It seemed so final then. I wept for my schoolmate, my friend, my comrade in arms. It all seemed so surreal at the time. But now I know that there is freedom for Vance and his soul continues to live with his Father in Heaven. At least there is hope in that. Vance, you will never be forgotten!

Rev. Jim Erixson
608 N. 58th Ave, Yakima, WA. 98908
jim@firstpresyakima.com
The point-of-contact for this memorial is
his sister,
Heidi
hlamber@msn.com
24 Feb 2001
---
With all respect
Jim Schueckler, former CW2, US Army
Ken Davis, Commander, United States Navy (Ret)
Channing Prothro, former CAP Marine
Last updated 09/29/2003