Notes from The Virtual Wall
Bill Fitzgerald, son of a retired Chief Petty Officer, grew up in Montpelier, Vermont, graduating from Montpelier High School in June 1956. He followed in his father's footsteps and enlisted in the United States Navy. As an enlisted sailor, Bill served in USS SAMUEL B. ROBERTS (DD 823), USS HUGH PURVIS (DD 709), and USS GEARING (DD 710). He eventually earned selection for appointment to the United States Naval Academy at Annapolis, Maryland.
After receiving his commission, Ensign Fitzgerald returned to destroyers. After his first sea duty tour he was selected for assignment to the Naval Advisory Group in Vietnam as the senior U. S. advisor at Coastal Defense Group 16. The group's compound was located adjacent to the village of Co Luy, near the delta of the Tra Khuc River, some 70 miles southeast of Danang.
At about 0300 on 7 August 1967 the compound was attacked by two Viet Cong battalions. The Citation for his Navy Cross describes his actions:
The President of the United States
takes pride in presenting the
NAVY CROSS
posthumously to
WILLIAM CHARLES FITZGERALD
Lieutenant
United States Navy

for service as set forth in the following
CITATION:
For extraordinary heroism on 7 August 1967 while serving as senior advisor to Vietnamese Navy Coastal Group SIXTEEN in connection with combat operations against the communist insurgents (Viet Cong) in the Republic of Vietnam. When Coastal Group SIXTEEN was taken under a coordinated attack by numerically superior Viet Cong forces, Lieutenant Fitzgerald established communications with the Vietnamese Navy commanding officer, and attempted to coordinate assistance with free-world forces in the area. The enemy fire soon became too intense for the outnumbered base defense force to resist successfully and the Viet Cong completely overran the base. Aware that his bunker was the only remaining source of resistance, Lieutenant Fitzgerald requested an artillery barrage to be laid down on his own position and ordered his men to evacuate the base toward the river. He gallantly remained in the command bunker in order to provide covering fire for the evacuating personnel. Before Lieutenant Fitzgerald could carry out his own escape, he was fatally shot by the Viet Cong aggressors. By his fearless dedication to duty, courage under fire, and heroic actions in defense of the base, despite overwhelming odds, Lieutenant Fitzgerald served as an inspiration to all persons engaged in the counterinsurgency effort in Vietnam and upheld the highest traditions of the United States Naval Service.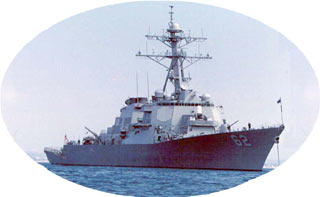 The USS FITZGERALD (DDG-62) and Fitzgerald Hall at the Surface Warfare Officers School Command in Newport, Rhode Island, are named for Lieutenant Fitzgerald.