Private Flagg died of a gunshot wound to the right side. He was survived by his mother Wilma F. Canada, 24th Street, Des Moines, Iowa and his Aunt Clara Mitchell, Luxora, Arkansas. He is buried in Glendale Cemetery, Des Moines, Iowa.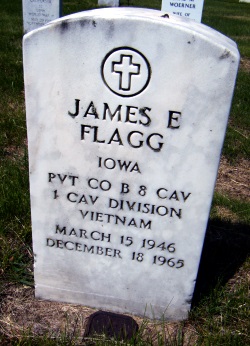 December 1966: Two medals awarded by the Republic of Viet Nam wefe presented to the mother of a slain Des Moines paratrooper. The medals, believed to be the first awarded by the Vietnamese government to an Iowa soldier, were presented to Mrs. Wilma Canada, 1311 Fifteenth St., in a quiet ceremony at Fort Des Moines.
Mrs. Canada's son, Pvt James E. Flagg, died last December of wounds received in Viet Nam combat. He was 19 and had served with the Army 1st Cavalry Division in Viet Nam about four months. Details of death were not disclosed.
His medals, won by Pvt. Flagg are believed the first to an lowan from the Vietnamese government. He said more decorations from Viet Nam to American soldiers are expected. The Vietnamese Cross of Gallantry citation stated: Private Flagg and other American soldiers: "Courageous combatants, well known for their sacrifices, who always exhibited a spirit of good will and co-operation. They assisted the Republic of Viet Nam armed forces in blocking the Red wave aggression from engulfing South Viet Nam and Southeast Asia. "They died in the perfomance of their missions.
The Military Merit Medal and Gallantry Cross with Palm were presented to Mrs. Canada by Col. Chester H. Dunning. Although several lowans have been decorated by the U.S. government, their and the losses have been greatly mourned by both their American Government and Vietnam counterparts, Colonel Dunning said
---
24 March 1966 Memorial
The 1st Battalion, 8th Cavalry, 1st Air Cavalry Division held an 'In memoriam' program for the men from the battalion who were killed in action during the period of November 3, 1965 to March 24, 1966. The men who were memorialized were: