Michael Forck was born to Rosalie K Forck (1916-1982) and Richard B Forck (1917-1965) in Jefferson City Missouri where he grew up with and was survived by 3 brothers, Bernard Patrick, Gregory Charles, and Nicholas Maurice Forck and 2 sisters, Nancy Anne (Mrs Steven A Saucier in 1971), and Laura Bernadette Forck.
On November 10, 1968, the engagement of high scool sweethearts was announced. It read, in part: MSgt. and Mrs. John R. Phillips (Nellis Air Force Base); Cedar City, Utah announce the engagement of their daughter, Burma G Phillips to Michael R. Forck. The bride-elect is a 1967 graduate of Jefferson City Senior High School, and is a dental assistant for Dr. Don C. Gentry. The groom to be is a 1965 graduate of Hellas Catholic High School, and attended Lincoln University, Jefferson City, Missouri. Pfc. Forck was stationed at Ft. Ord, California.
The next announcement in the area papers stated that Miss Burma G. Phillips and Michael R. Forck exchanged wedding vows at 1 p.m. Saturday, December 21, 1968 at St. George Catholic Church, St. George, Utah. The bride was the daughter of MSgt and Mrs. John R. Phillips; Cedar City, Utah, and the groom was the son of Mrs. Rosalie K. Forck and the late Richard B. Forck.
The newlyweds had a short honeymoon in Las Vegas because Michael had to leave for Vietnam. He started his tour of duty on January 6, 1969. Two months later, on March 7, 1969 he was killed when hit with small arms fire near Fire Support Base Mahone II, 7 kilometers S-SE of Dau Tieng Base. He was the only soldier killed in the skirmish and was just 22 years old.
The Daily Herald, Provo, Utah, in their Tuesday, March 11, 1968 edition, wrote the following under the banner of "Utahn Dies In Vietnam"

WASHINGTON (UPI) - A Utahn was among 147 men identified Monday by the Defense Department as killed in action in Vietnam. He was Pfc. Michael R. Forck, husband of Mrs. Burma A. Forck, (117 South 400 East) Cedar City.
The Jefferson City Post Tribune, on page 1 of their March 10, 1969 edition, published the below notice:
Once Michael's body returned home, funeral services were held. PFC Forck was laid to rest in Jefferson City National Cemetery. His parents are buried in Resurrection Cemetery, Jefferson City, Missouri, along with his older brother Bernard 'Bud' Patick Forck (1917-1965).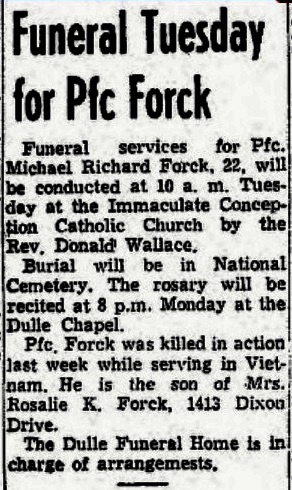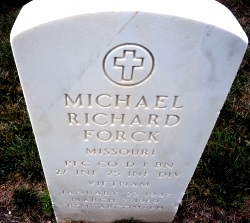 ---
- - - The Virtual Wall, September 6, 2014