During the Vietnam War there was no overriding reason to keep close track of names of the men and women who died as a result of military service in the war zone. A decade after the withdrawal of US forces, the Vietnam Veterans Memorial was approved for construction. The service branches went back through their records to identify our dead by name.
Inevitably some men who should have been named on the "Wall" were not. Over the years additional names have been inscribed on the Wall - some were men who died after the war as a result of wounds received in the war, and others were men whose names were overlooked in earlier years.
The name Clark D Franklin was not on the Vietnam Veterans Memorial Wall when initially created, but was added May 5, 2013, in time for Memorial Day Ceremonies on May 31, 2013.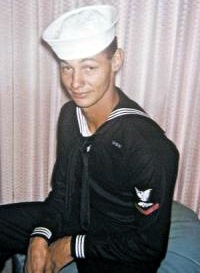 It was 47 years since Franklin was a casualty of war but thanks to his former shipmates, Franklin was one of four men's names were added to the Wall. The other 3 names added were Marine SGT Dennis R. Siverling, of Ladysmith, Wisconsin, Army SP4 Raymond Clark Thompson, of West Palm Beach, Florida., and Marine PFC Lester James Veazey, of Enid, Oklahoma
Franklin was aboard the U.S.S. Ranger in the Gulf of Tonkin when he was killed. The ship's log for Sunday, 24 April 1966 shows the following information:
08-12 hours. Steaming as before. 0800 Mustered the crew on stations; no new absentees. 0845 Commenced flight operations for this date. Foxtrot Corpen is 170 degrees speed 25 knots. Maneuvering on various courses and speeds while conducting flight operations. Stickell assumed plane guard station astern. 0855 Franklin, Clark D, USN, died on board as a result of injuries suffered on the flight deck during air operations. Medical report to follow.

12-16 hours. Steaming as before. 1200 Tested the ship's general chemical, and collision alarms; test satisfactory. 1226 Received report that the death of Franklin occurred during the course of his duties as catapult supervisor and as a aresult of his being struck in the back by the leading edge of the wing of an F4B aircraft during a catapult launch.
What the log did not say was that Franklin was trying to help one of his crewman who was experiencing difficulty hooking the aircraft to a catapult. The catapult fired, and Franklin was killed instantly. Franklin's death was originally ruled a training accident but was recently acknowledged as a death in a combat-related mission, qualifying Franklin for a spot on the Wall.
Jimmie Stokes of Franklinton, Louisiana., was Franklin's shipmate and petitioned the U.S. Navy and the Department of Defense to have Franklin honored on the wall.
Based on the information from Franklin's shipmates and DOD's records, Franklin was active in many school programs and in junior bowling in Carlsbad at a young age.
In high school, he also developed a love for cars and racing and continued to race cars after he joined the Navy in January 1962. Franklin's friends said he won many trophies, but his life's ambition was to win the Indy 500. He had planned on leaving the Navy but the day before his death, he extended his tour.
PO3 Franklin was survived by his parents Dorothy Nicholson Helm, Desert Eve Drive, and Clarence Dewey Franklin, Duran Street, both of Alamogordo, New Mexico. They are buried at Monte Vista Cemetery, Alamogordo, Otero County, New Mexico. He was laid to rest in Fort Bliss National Cemetery, El Paso, Texas.

---
- - The Virtual Wall, November 5, 2014
Medals box Photo by Floral Designer