A Note from The Virtual Wall
During the period 30 March-06 April 1968 the men of the 2nd Battalion, 35th Infantry, were involved in a series of fights in the vicinity of Hill 1062 in Kontum Province.
On 01 Apr 1968 D Company 2/35 Infantry was airlifted into an area near Hill 1062, northwest of the fire base at Polei Kleng, where enemy contact had previously been made. D/2/35 received mortar and sporadic small arms fire and was withdrawn to allow air and artillery strikes. On 03 Apr 1968 Companies C and D 2/35 were inserted with the intention of clearing the Hill 1062 ridgeline. However, D Company
"got to the same location and walked directly into a NVA ambush. I was in 2nd platoon, the point platoon that day, and within minutes after the first shot, we had 4 KIA and several WIA. Lost immediately were Gary Watson, Ted Sandidge, Leslie Lantos and Joe Quirion (all riflemman, not sure of their ranks). These were the first four men in the 1st squad. The first 3 men in the 2nd squad were wounded at the same time, these were Packer (? first name), Gerald Kelly and myself."
- Romain Voeller, D/2/35th Inf
C Company also ran into trouble after they were inserted into a landing zone just northeast of Hill 1062:
"We moved along the ridge about 400 meters and started up 1062 as they approached the top the 1st Plt was ambushed by NVA who were well dug in and heavily bunkered, and by the end of the day we had 4 KIA and several WIA. We lost SSG David Carl Thomas, SGT Philip Lorne Konigsfeld, SP4 Edward Day, and SP4 William Joseph Frey."
- Ben Youmans, C/2/35th Inf
Once again the troops were withdrawn to allow further air and artillery strikes. When they returned on 05 April, they again encountered stiff resistance along the top of the ridge and once again withdrew to allow air and artillery room to work. The next assault on the morning of 06 April was unopposed - the NVA had abandoned the hill top, which had contained a regimental hospital complex.

The men who were killed in action on Hill 1062 were
A Company:

SP4 Eduardo Aranda-Santos, Santurce, PR
SP4 Robert E. Cole, Carthage, TX
CPL Robert F. Kline, Los Altos, CA
SP4 Leslie J. Lantos, Ten Sleep, WY
SP4 Jesus A. Quidachay, Umatac, GU



C Company:

SSG David C. Thomas, Muncie, IN
SGT Philip L. Konigsfeld, Tucson, AZ
SP4 Edward Day, Flint, MI
SP4 William J. Frey, Monroeville, PA (Silver Star)



D Company:

CPL Joseph G. Quirion, Skowhegan, ME
SP4 Theodore W. Sandidge, Pawnee, IL
SP4 Gary E. Watson, Midland, TX



HQ Company:

PFC Dean H. Burns, Sonoma, CA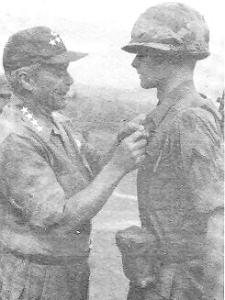 William Frey receiving the Silver Star from General Dwight E. Beach.

35th Infantry - the Cacti Regiment