11 Dec 1997

Jim Schueckler, a Vietnam veteran and a National Park Service volunteer at the Vietnam Veterans Memorial in Washington, assisted during a visit of The Moving Wall to a city near the village of Pavilion, New York, where Specialist Fry is remembered on a town memorial to its only Vietnam War casualty. While there he met and talked with the family of Specialist George Fry. Afterwards, Jim felt compelled to remember George Fry and his family on The Virtual Wall.


---

14 April 2002

Over four years later, a man who had served with SP4 Fry, Bill Farnie, came across the memorial and noticed a critical error: the database page, which was derived from the official records, listed George Fry's death as due to drowning or suffocation as a result of enemy action.

Bill knew better; he was present when George Fry was shot to death during combat operations in the A Shau Valley. What's more, he knew that Fry had been decorated with the Silver Star, America's third highest award for heroism in combat, for the actions which led to his death. And finally, Bill and others from his 506th Infantry unit had been trying to get the official records corrected to reflect the true cause of Specialist George Fry's death: gunshot wounds sustained while in action.

Together with another member of Fry's unit, combat medic Richard "Doc" Daniels, Bill undertook to update and correct George Fry's memorial on The Virtual Wall. As a result of their concern for a comrade-in-arms long dead, yet alive still in the memories of family and friends, Specialist Four George Fry is properly honored on The Virtual Wall.

George Fry,
recipient of the Silver and Bronze Star medals,
is
REMEMBERED
by the men he served with

and by the community he served.


---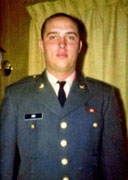 One of the world's finest men,
soldiers and friends who ever existed.
Many are alive today because of him.
America should be proud of him.

I hope his friends and family have the
opportunity to read this.
I hope they are filled with pride,
because they have every right to be so.

Richard "Doc" Daniels
Combat Medic, D/1/506 Inf