Biography for
ROGER ALAN FULKERSON
6/19/45 - 9/25/68
After graduating with honors from Troy High School, Roger A. Fulkerson attended the United States Military Academy at West Point and graduated in 1967. While at West Point, he was a member of the bowling club, cadet band, riding club, karate club, and German club. He then attended artillery school at Ft. Sill, Oklahoma, and then volunteered for airborne school at Ft. Benning, GA, and took ranger training in Georgia and Florida.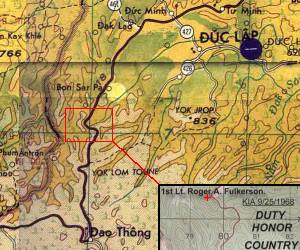 First Lieutenant Roger A. Fulkerson was killed in action on September 25, 1968, during a battle with hostile forces along the Cambodian border in Duc Lap, Viet Nam, on a main infiltration route to Saigon. He was serving as a forward observer with the C Company, 2nd Battalion, 35th Infantry, of the Fourth Infantry Division. Because of his actions, several men's lives were saved that day. Tragically, he lost his own life in the process.
Roger was posthumously awarded the Silver Star, Bronze Star for Valor, Bronze Star for Meritorious Service, Purple Heart, National Defense Service Medal, Vietnam Service Medal, Vietnam Campaign Ribbon, Combat Infantryman's Badge, Parachutist Badge, Expert Rifle Badge and the Ranger Tab.
Roger is survived by his daughter, Lynne Krause, whom he tragically never knew, as well as his parents, Bill and Dorothy Fulkerson, and his sister, Amy Fulkerson Hatfield. He is buried in Oakwood Cemetery, Troy, New York.
Roger is remembered


by the men of the 35th Infantry