The two photographs at The Little Grass Shack and Joe Gaa photos website show Joseph William Gaa, Sr. in front of a ti leaf thatched hut constructed on the grounds of Christ Church during World War II. In one photo, he is standing at attention, posed for the photo. In the other, he is caught off guard, pulling on his gaiters.
Joe Gaa Sr was a man of many talents. Not only did he serve as Staff Sergeant in the Infantry's Company B 298 during World War II, he worked part-time as Christ Church gardener and handy man for the resident Episcopalian minister, Rev. Kenneth O. Miller.
After the war, he worked for Horseshoe One Ranch, the type of fellow who could tune up an engine, pound in gateposts and fix leaking water tanks in a snap. This is the environment that SGT Joseph William Gaa Jr was born into and raised with his siblings.
In 1941, the Rev. Miller, his wife Gertrude and daughter Charlotte lived in a rambling old vicarage mauka of the church. You can find the Rev. Kenneth O. Miller's simple granite gravestone in the upper Ka`u section of Christ Church cemetery. He died in December of 1944 at the age of 50, never knowing the final outcome of the WWII.
He never knew that Joe Sr and his wife Kay raised a fine family in Kona, bringing their children to Christ Church for Sunday School.
During the Vietnam war, two men from Christ Church joined the Army. One of them was Warrant Officer Wayne Howard Hedemann, proud to be following in the footsteps of his father who served in the Marine Corps during World War II.
Wayne was killed in May 13, 1970 at the age of 25. He was co-piloting an Army Cobra helicopter from the 334th Assault Helicopter Company in the Angel's Wing area, 12 kilometers NW of Chantrea Cambodia.
According to his sister Meta, he died instantly, an anti-aircraft round through his throat. From his position, he was defending American troops on the ground. He was the only one killed in the event. His pilot returned safely to base with Wayne's body.
The other soldier killed was Joseph William Gaa, Jr., Joe Senior's only son and namesake. He died at the age of 20, his death a great loss for his parents, family, and for everyone who knew him.
During a training session outside the base camp with other members of his unit, an enemy booby trap was detonated, killing Joe Jr. and 5 other men. Those killed in the explosion were:
The tall flagpole at Christ Church was erected to the memory of those two fine young men, Joe and Wayne, although there is no plaque to alert passers-by to note and honor their service and ultimate sacrifice to the country.
---
Joe Gaa, Sr. died in 1972 and was buried on the Kohala side of the cemetery, not far from a cypress tree he may have planted as a young man. Not ten feet from his grave is that of Wayne Hedemann, flanked by his parents.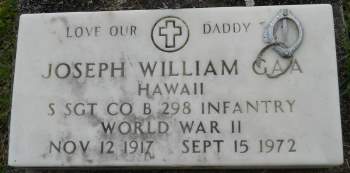 It seems fitting they all are so close together, both families understanding that war means sacrifice. Joe Jr.'s white marble stone is not far from Rev. Miller's.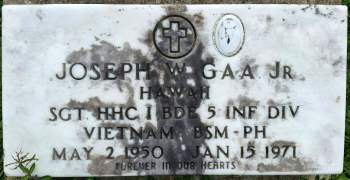 Names carved in stone and bronze remind us of the high price paid for loyalty and valor. Memorial Day is a good time to walk in cemeteries and to remember the dead with gratitude.
---
- - The Virtual Wall, September 17, 2017