13 Jul 2006

Emilio was one of seven children born to Elauteria (Teah) and Guillermo Garcia. He was born and raised in Barstow, Texas, a community on the east side of the Pecos River which represents the county line. Barstow is in Ward County. He attended Barstow schools and while in high school he held many honors and played several sports: Football and Basketball, Freshman and Sophomore Years; Golf, junior year; three year member of the Track team. He was class favorite as a freshman and sophomore, held the title of "Mr. Barstow High School" his junior year, most popular boy as a junior. He was a 1966 graduate of Barstow High School.

He was drafted into the Army the fall after he graduated from high school. He completed basic training at Fort Bliss and AIT at Fort Hood. He was assigned as a riflmen/machine gunner with A Company, 1st Battalion, 50th Infantry at Fort Hood. He went to Vietnam on May 5, 1967 as apart of the advanced party for his unit which completed the mobilization in September 1967. The unit was thrown into heavy combat in November 1967 and Emilio was a part of the operation called the "Battle of Tam Quam." His company suffered great losses among them was a friend, Manual M. Gonzales of Pecos, Texas (8 miles from Barstow) who had gone into the Army with Emilio and had served through basic training, AIT and service at Fort Hood and had gone to Vietnam as a part of the same company.

Emilio was killed in a battle on January 23, 1968 when his company became engaged with a Viet Cong forces. Emilio earned the Bronze Star with "V" device for his actions that day which cost him his life. The citation states that "Private First Class Garcia exposed himself to the enemy fire as he flanked the hostile positions in an attempt to destroy the well entrenched enemy emplacement. After neutralizing one enemy emplacement, Private First Class Garcia was mortally wounded."

He was buried in the Barstow Cemetery in Barstow, Texas with full military honors. He was posthumously promoted to the rank of Corporal and was awarded the Bronze Star with "V" device, Purple Heart and the Vietnam Military Merit Medal. He left behind a loving family. May his sacrifice not be forgotten.

From a PBVVM representative,
Billy M. Brown
4015 Melody Lane, Odessa, Texas 79762
bmbrown@grandecom.net


---
PFC Emilio Gamboa Garcia, 20, of Barstow was killed in action in Vietnam on Tuesday, January 23, with a gunshot wound received while in combat operations when engaged with a hostile force.
Parents of the young man, Mr. and Mrs. Guillermo Garcia, of Barstow received the word by personal notification which was confirmed by a telegram from Kenneth G. Wickham, Major General of the U.S. Army in Washington D. C. He was a machine-gunner and had been in Vietnam for several months. He had been in service for a year and seven months.
His death came just prior to his 21st birthday which would have been this Sunday. A 1966 graduate of Barstow High School, Garcia was a class favorite as a freshman and sophomore, most popular boy as a junior, played football and basketball as a freshman and sophomore and was three year member of the track team as well as a junior member of the golf team.
While in high school, he helped in every way possible to build school spirit in the teams and among the spectators. He was selected as Mr. B.H.S. his junior year which is based upon neatness of appearance, personality and attitude.
Full military honors will be bestowed upon the young man when funeral services are conducted at the Barstow Catholic Church after the body is returned from Vietnam in about a week. Burial will be in the Barstow Cemetery.
A native of Barstow, Garcia is survived by his parents, two brothers, Severo of Odessa and Armando of Las Cruces, New Mexico and three sisters, Agustine, Delfina and Cruz all of El Paso. (Left out was his brother, Jesus (Chuy) who was in the U.S. Army.)
Pecos Enterprise and Independent News Article
Friday morning, January 24, 1968
Transcribed for The Virtual Wall by Billy M. Brown.
Fran's Fragmentaries
By Fran Lunday

With the ominous situation looming in North Korea along with the tragic war being carried on in Vietnam, letters and poems and such written by our soldiers serving in Vietnam at the present time take on even more meaning than perhaps ever before. Such a letter was written by Emilio Garcia, the young soldier who recently fell victim to the bullets of the Viet Cong and whose body is even at this time en route home for burial. The words he wrote to Mrs. Jenson in Barstow were very touching at the time the letter was reprinted in the Pecos Enterprise on December 29 following the death of Reeves County's Manuel Gonzales.
They may mean even more to the reader now that he himself has given his life for what he believed in.
The Letter went as follows:
Dear Mrs. Jenson,

Vietnam is a beautiful country, but the Communists don't make it a very pleasant place to live.

Mrs. Jenson, the Spanish guy from Pecos, Manuel Gonzales, I guess by now you know, he got killed in Vietnam. Well, anyway, he and I came into the Army together and also came to Vietnam together. He was a real good friend of mine and it really tore me up when he got killed and I guess it's kind of hard to believe, but it's just one of those things we have to get used to.

I wrote to my mother and told her to have a Mass said for Gonzales on Christmas. That's all I could do for a brave soldier who died defending his Country from Communist Aggressors.

Yes, it's poverty, it's hunger, the poor struggling to make a living. It's hot, humid and wet. It is filth, disease, and sweat, and mosquitos and other treacherous bugs. It's all the evils of war and many more. But I am glad I'm here, in a way, because you cannot learn by books or magazines what it is really like. It's all utter chaos. It is people who have an opportunity to look at things first hand and go through some of the utter chaos, that within themselves instill qualities of tenderness and compassion, and make better persons out of them.

Now I know how people live in other countries. This way, I will never be dissatisfied with life in America or back home as long as I live, because now I know how fortunate I am to have been born in such a Great Country as ours, Blessed with the best things life has to offer.

One big lesson I have learned is not take everything for granted. That's what's wrong with America today.

Guess I've said enough and I better got on the ball and go chase "Charlie" in the jungle.

Sincerely,
Emilio

P.S. Merry Christmas and Happy New Year.

Pecos Enterprise and Independent News
Friday, February 2, 1968
Transcribed for The Virtual Wall by Billy M. Brown.

---

From The Virtual Wall:
Cpl Manuel M. Gonzales was one of 18 Americans killed
in action at Tam Quan on 10 Dec 1967. He was serving
with B Company, 1st Bn, 50th Infantry.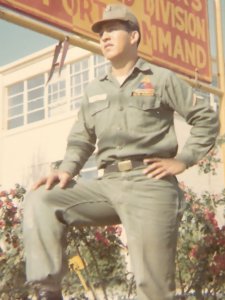 Emilio Garcia, Fort Hood, Texas