04 May 2000
A South Carolina Veteran
Remembers A Fallen Brother
John Henry Garner was born in Charleston Heights, SC, on May 14, 1947. John Henry joined the Navy and went to school as a Hospital Corpsman. After school he was assigned to H&S Company, 1st Battalion, 1st Marines, 1st Marine Division.
As a Hospital Corpsman, John Garner had a standard to meet. The Marines he served with expected him to be singularly fearless, able to ignore battles in progress to be in constant attendance of those who were wounded. A short delay because of fear could mean death to an injured man. The men needed to know they could count on their Corpsman.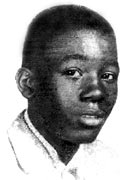 As a black enlisted man, John Garner had another hurdle to make as well. These were times when racism was a tense matter, and an adjustment period between races always occurred until things settled from black/white/red/yellow to "shades of green".
Hospitalman Third Class John Garner had just turned 20 when he was returning with his unit from a U.S. Marine search and destroy mission onboard a River Patrol Boat. The PBR came under enemy fire and overturned. Garner apparently drowned in the incident and searches did not recover his body. He was listed in a casualty status of Killed In Action/Body Not Recovered (KIA/BNR).
The next chapter of John Henry's story is just now unfolding ... Camp Pendelton, California, the home of the 1st Marine Division, John Henry's Division, has broken ground on a brand new Regimental Aid Station that is due to be dedicated in December 2003. The Station will be named in honor of John Henry.
My full memorial to HM3 John Henry Garner
is published at
http://www.logicsouth.com/~crash/JHGarner.html
A memorial from his buddy,
Fred
crash@logicsouth.com