20 May 2001

I recently visited the Vietnam Wall in Washington, DC. I was on my oldest daughter's 8th grade class trip.

Words can not describe the emotions that I felt, not only mine but others'. I knew that I would cry but I never expected my daughter to break down. It was an incredible experience. We saw all the Memorials in DC but not one even came close to what we felt at the "Wall".

I pray to God that none of these kids will ever have to experience war. I was only nine when my brother died, and I remember when my Uncles came to tell my parents. I don't know if they ever got over the loss. With every Military funeral, Memorial Day, Veterans' Day, and Independence Day we remember our loss as well as the others who died while serving our country.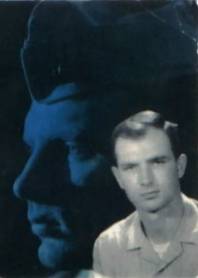 If anyone knew my brother Gary Lee Gillard, I would like to hear from you.


---

15 January 2002

I would like to update my memorial, with some wounderful news! On December 28, 2001, my nephew's wife gave birth to a beautiful little boy! 8lbs. 7oz., 21 1/2 inches long. They named the baby "Gary" after my brother. Words can't express how much this meant to me and my entire family. In the future I am sure Gary will be proud to know that his namesake died to make this world a better place for all of us. Thanks, Ben and Brenda, for the best memorial ever!


---

Debbie
tdkavan@mc.net