August 15, 2001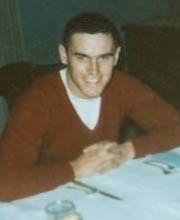 I want to let you know how the reunion was while it is still fresh in my mind. We had an incredible experience! My Mother was treated as if she were the Queen of the ball. She has a habit of backing out of engagements at the last minute, so I was almost expected her to call the evening before we left to tell us that she had changed her mind. We had an early flight out -- 6:30am, so we had to leave for the airport by 4:45 and we told her we would be there about 4:30. Well, no phone call to cancel the evening before, so my sister Barbara and I arrived a 4:30 sharp, and Barbara had not even taken the key out of the ignition when Mom was standing there at the car, ready to go!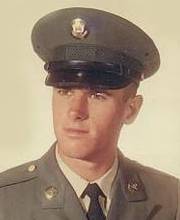 We arrived at the hotel about 3:00pm and took our bags up to the room, then headed down to see if we could find Mike Grisey, the gentleman who we had been instructed to find. As we stepped off the elevator, though, I spotted a face that looked familiar to me. "Are you Ken Roach, by any chance?" I asked. Of course it was, and he took us to registration and then to the Hospitality room, where we met up with Chuck's pilot, Jim Thompson and his gracious wife Dianne. Mike Grisey, a Crew Chief who served in Chuck's unit, and Tom Everhart, a Pilot who Chuck also flew with, joined us, and we all sat and chatted until it was time to get ready for the Memorial Dinner. That began a weekend that I will never forget.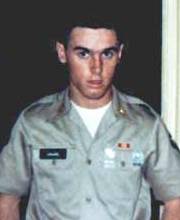 The Memorial Dinner was wonderful. We were able to meet some other great folks -- Tom Schnaubelt, Fred Behrens and Mary Jean Terrell. Mom met Tom Everhart, who told her that she 'is his hero.' The big surprise for us as when our friend Frank Tresenrider came in -- he led us to believe that he would be there late Saturday afternoon. We had a great evening of fellowship, getting to know each other. After dinner, Mom was ready to turn in, but Barbara and I met with the same group in the Hospitality room, where Ken Roach spent at least an hour going over details of my Brother's incident. Ken had been the AC on the second helicopter on the mission, and had been the one to report the aircraft missing. He detailed the search, which continued for a week or more, and the recovery, which would not be accomplished for another couple of weeks because of bad weather. All of this was new information to us -- we got only the sketchiest details at the time of the crash. There were two things that impressed me about Ken spending so much time with us: 1) Ken was being installed as the new President of the 101st Airborne Association and was quite busy most of the weekend. 2) Ken was very close to the pilot (David Poley) who perished with Chuck, and to relive what had to be one of the blackest days in his first tour must have been incredibly emotional for him. I consider it one of the most selfless acts I have ever witnessed. Ken and Joanne were most gracious to us the entire reunion, in spite of their tight schedules.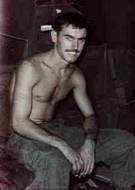 Saturday afternoon we attended the Ladies Luncheon, where we met several more lovely women, then joined several people from Chuck's unit for the remainder of the day. We took a van to the Alamo, and walked several blocks to the Buckhorn saloon. Mom held up just great! There were nine of us: Fred Behrens and Mary Jean Terrell, Jim Thompson, Mike Grisey, Frank Tresenrider, Mom, Barbara and myself. Another new face joined us, a pilot by the name of Jim Addington. He asked Jim Thompson who we were and broke into tears when Jim told him that we were Chuck Girard's family. "I was there -- ", he told my mother as he gently took her hand and wept. I don't know what was more touching through the afternoon: hearing Fred Behrens offer to carry Mom if she got too tired, walking with Mom and holding her left hand while Frank Tresenrider took her right, or watching as she walked arm in arm Jim Thompson on her left and Jim Addington on her right. We all made it back to the hotel with enough time to prepare for dinner.

As the dinner started, Ken Roach came to the table with a gentleman who had been Chuck's Battalion Commander, Col. John Kennedy. They presented Mom, Barbara and me with the 'Wings of the Eagle' -- the Battalion Crest that Chuck wore during his time with the Kingsmen. What a surprise and an honor! During Ken Roach's address to the group, he introduced Mom as a 'Gold Star Mother', and she received a standing ovation. I know that she was truly touched. After dinner, Ken called me aside, and asked if I thought Mom would like a program from the Memorial Service that was held for the crew in Vietnam. I could not believe it! Mom and Barbara had not remembered seeing one, but I clearly did when Chuck's belongings were returned 32 years ago. The names of the other men had been marked out with a black marker pen. Col. Kennedy had kept an original all these years, and asked Ken if he thought we would like it. Col. Kennedy told me had had kept it in the hopes that someday he could pass it on to one of the families. I don't think that I had ever even mentioned it to Ken. When Mom got that, she had to sit down. Mom finished the evening by dancing a bit with Jim Thompson (who I might say is quite a good dancer!)

All in all, the experience was priceless. I know that my Mom left with a feeling of real peace. I think it took becoming a mother myself to even come close to understanding what a sense of loss she has carried all these years. When I read Chuck's letter's to her, and think of some of the stories that she has related, I know that Chuck was very special to her. I think back to some of the things that Chuck did as a young teenager and know that he loved her with all his heart. I think that when we stopped talking about him, her loss became greater because she feared that the son that she loved so much had disappeared from everyone's memory as well. To meet the men who spent Chuck's last year with him and know that he still lives in their hearts has brought her immeasurable peace. These men and their families are all very special. I cannot begin to find the words to thank them for opening their hearts to us.
Chuck's sister,
Vicki Chandler
vicjim@attbi.com.net
| | |
| --- | --- |
| Chuck with Jim Thompson | Chuck with his helicopter |