Paul Gerard Giroir
"Jerry"
Corporal
81 MORTARS, H&S CO, 3RD BN, 9TH MARINES, 3RD MARDIV
United States Marine Corps
11 December 1946 - 22 September 1967
New Orleans, LA
Panel 26E Line 112
The database page for Paul Gerard Giroir
Paul (Jerry) Giroir, on 22 September 1967, was in a defensive position in the vicinity of Con Thien when they were subjected to heavy attack by enemy mortars and artillery. He was fatally wounded by shrapnel to the head and right side from enemy artillery while participating in Operation Kingfisher and died of multiple wounds at 3:00 p.m.
"We have loved him during life; let us not abandon him,
until we have conducted him by our prayers into the
house of the Lord."
ST. AMBROSE
"Blessed are they that mourn, for they shall be comforted."
ST. MATTHEW V. 5.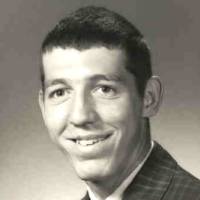 In loving memory. You have always remained in our hearts and prayers and always will. Wish you were here. Please keep a watchful eye on us.
A memorial from his Brother and Sister-In-Law,
Rey And Phyllis Giroir
reygiroir@cox.net
22 Jan 2002
---
With all respect
Jim Schueckler, former CW2, US Army
Ken Davis, Commander, United States Navy (Ret)