The 1st 155mm Gun Battery, as its name implies, was equipped with M53 self-propelled 155mm howitzers. The photo below shows an M53. Notice the enclosed crew cab.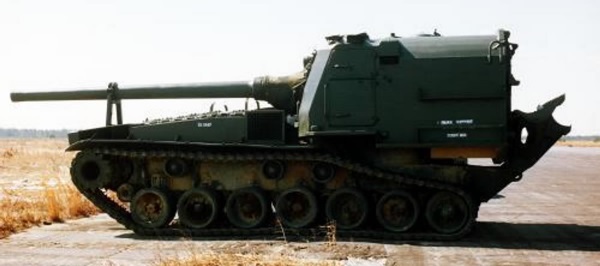 At 0805 on 13 March 1968, while conducting a fire mission against an NVA emplacement, a 155mm round detonated in the tube of one of the battery's guns, killing six men and injuring another. The 1st 155mm Gun Btry's Operations Log contains the following entry:
"13 MAR 68: At 0805 one M53, 155mm (SP) Gun exploded in the battery area; 6 KIAs and 1 WIA sustained as a result."
while the narrative summary for the month says
"On 13 March 1968, at approximately 0805, an explosion on Gun #2 claimed the lives of six members of that section while another was seriously wounded. On 30 March 1968, the wounded Marine died of complications as a result of the accident. The probable cause, as determined by investigation, was the failure of the breech block to be fully closed and locked prior to firing."
The seven men who died were


Oklahoma City area papers reported the death of Pfc. Glover. His obituary read similar to: An Oklahoma City Marine has died in Japan from wounds received in Vietnam a week before his 21st birthday.

PFC Glover, age 20, son of Mrs. Roxanna Glover, 2500 16th, died Friday in the 106th General Hospital, Yokohama, Japan. He was wounded March 13 when an artillery shell exploded in the chamber of the gun he was manning.

Glover had been in Vietnam since September 20, 1967 and in the Marine Corps for about a year. He was born in Oklahoma City and attended Douglas High School. He graduated from High School at a job corps camp in Maryland.

Survivors include his father, Lee A. Glover, Kansas City, Kansas; two brothers, Weston and Lavern, both of the home and a sister, Virginia Alderson, West Virginia.

Not mentioned in the obituary is that he was also survived by a son, Lee A Glover, in care of DeAnn Bethany (mother) of Northeast 2nd Streeet, Oklahoma City.

He was buried in Hillcrest Memory Gardens, Spencer, Oklahoma County, Oklahoma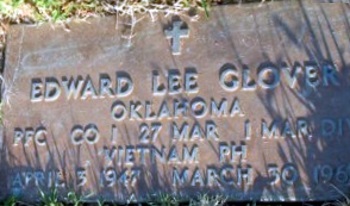 ---
- - The Virtual Wall, November 2, 2014