27 May 2006

On behalf of Eileen (Graf) Hook, CDR John Graf's sister, thank you for all of your kind words and prayers.

I am Eileen 's son-in-law, married to her daughter, Helene Hook.

CDR Graf's spouse, Anne, passed away in Florida in 1994. They had no children.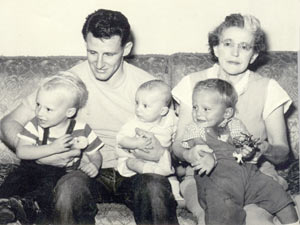 Jack Graf in 1951, with his mother, Virgie Graf, and his nephews, John, Chris, and Greg Hook, who are my wife's brothers.
Robert E. Connors
CDR, MSC, USN, Retired


---

15 Sep 2007

Due to the leadership of VADM Rex Rectanus, USN, Retired; Peter Decker, Steve Maxner, and JR Reddig, I learned that an Ad Hoc Committee was recently formed in 2007 to memorialize CDR John Jack Graf, USN (KIA), and to honor the Naval Intelligence Field Organization Vietnam (NavIntFOV). The plan is to place a memorial plaque at the Navy Memorial in Washington, DC, which indicates that CDR Graf was
"the only Sailor, Officer, or Enlisted who was shot down twice, captured by the enemy, and killed during an escape attempt ... A Naval Intelligence Officer by experience, a Mustang by background, an aviator by training, and a Fleet sailor who braved the Antarctic gale in his time ... He is also a symbol of the American Sailor, officer and enlisted, who stood up to his brutal captors and gave the full measure of devotion while attempting to perform the final duty of a prisoner: escape."
Contributions may be made to help defray the cost of the plaque.
Send contributions in CDR Graf's name to:

Paul T. Haley, Director of Planned Giving
U.S. Navy Memorial Foundation
701 Pennsylvannia Ave NW, #123
Washington, DC 20004-2608
1-800-821-8892

or contact me for more information.
From the son-in-law of CDR Graf's sister Eileen Hook,
CDR Robert E. Connors, MSC, USN, Retired
20670 Stillpond Court, Ashburn, Va 20147
roberteconnors@mac.com