07 Feb 1998

Annie Ruth Graham's final Christmas Letter to friends and family, 1967:

Greetings!

This Christmas finds me a long, long way from North Carolina. I arrived in Saigon on 18 November and almost immediately departed for Tuy Hoa (pronounced Too-ey Wah) where our hospital (400 bed) is located directly on the beach of the South China Sea which is perfectly beautiful but quite treacherous. All buildings here are tropical type and the hospital is cantonment style. It is monsoon season now so we have torrential rains at times. The climate is quite humid but the nights are really rather pleasant. Getting used to my new outfit (tropical fatigues, jungle boots, and "baseball cap") is not as "exciting" as in World War II but I'm quite sure I'll manage to survive it all! Our nursing staff consists of 59 nurses (12 male) who of our enlisted personnel seem very well trained and apparently have been doing an excellent job.

The tour of duty here is 12 months so I plan to be home for Christmas next year.

I hope you have had a good year and that your Christmas is filled with joy and the New Year with more happiness than you could possibly wish for.

Hope, too, that everyone will pray for peace.
Love, Ruth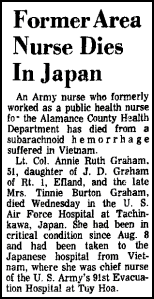 LTC Annie Ruth Graham died at the Tachikawa Air Force Hospital, Japan, on the fourteenth of August 1968.
Ruth was admitted to the 91st Evacuation Hospital at 10:30 p.m. on 8 August, after suffering what appeared at first to be a fainting spell. Upon admission to the hospital her illness was diagnosed as a subarachnoid hemorrhage. Due to the seriousness of her condition she was evacuated, with one of the physicians in attendance, to the U.S. Air Force Hospital at Tachikawa Air Force Base, Japan, where, despite every effort to save her life, she died at 9:55pm on the fourteenth of August.
A veteran of World War II, Korea, and Vietnam, she was 51.
A memorial from Annie's grandniece,
Christine Kirby
ckgraywolf@aol.com


---
| | | |
| --- | --- | --- |
| GRAHAM, ANNIE R. | N727004 | LTC, ANC |
DECORATIONS
American Campaign Medal
European-African-Mid East Campaign Medal w/ 2 Bronze Service Stars
World War II Victory Medal
Army of Occupation Medal (Japan)
Korean Service Medal
United Nations Service Medal
National Defense Service Medal with 1st Oak Leaf Cluster
Armed Forces Reserve Medal with 10 Year Device
One of eight nurses listed on the Viet Nam Veterans Memorial, Washington, DC
RANK
Second Lieutenant
March 1942
First Lieutenant
April 1944
Captain
November 1946
Major
May 1953
Lieutenant Colonel
June 1966
ASSIGNMENTS
General Duty Nurse
Mar 42-Nov 45
Station Hospital, Fort Jackson, SC

57th Station Hospital and
171st Evacuation Hospital
U. S. Army, Europe (WWII)

Not on active duty
Nov 45-Dec 50
General Duty Nurse
Jan 51-Sep 52
U. S. Army Hospital,
Camp Rucker, Alabama
General Duty Nurse
Oct 52-Sep 54
U.S. Army Hospital,
Camp Yokohama;
Osaka Army Hospital, Japan
Army Health Nurse
Nov 54-Mar 58
U.S. Army Hospital
Fort Leonard Wood, Missouri
Army Health Nurse
Apr 58-Oct 60
45th Field Hospital,
U.S. Army, Europe
Surgical Head Nurse;
Medical Surgical Supervisor
Oct 60-Nov 63
Walter Reed General Hospital
Washington, D.C.
Head Nurse
Jan 64-Mar 66
U.S. Army Hospital,
Asmara, Ethiopia
Supervisor, Dept. of Surgery;
Assistant Chief Nurse
Mar 66-Oct 67
Womack Army Hospital
Fort Bragg, North Carolina
Chief Nurse
Nov 67-Aug 68
91st Evacuation Hospital,
43rd Medical Group,
44th Medical Brigade,Tuy Hoa, Vietnam
Hear my prayer in silence before Thee
as I ask for courage each day.
Help me to offer hope and cheer
in the hearts of men and my country,
For their faith inspires me . . .
(Exerpted from "Prayer of an Army Nurse" )

On The Vietnam Veterans Memorial:
Panel 48W- Line 12
The database page for Annie Ruth Graham
Vietnam Women's Memorial Project
Military Woman Home Page
Marilyn's "Women in Vietnam"
Details of the 8 military and 56 civilian American women killed in the war
Family Contacts
The Virtual Wall
The Moving Wall

The background image was derived from a photo of the Vietnam Women's Memorial, which is copyrighted by Glenna Goodacre and VWMP. Used with permission.