Raymond Charles Graver, Jr
Specialist Four
F TROOP, 8TH CAVALRY, AMERICAL DIV
Army of the United States
28 October 1949 - 05 April 1970
Wantagh, New York
Panel 12W Line 097
The database page for Raymond Charles Graver, Jr
16 Apr 2008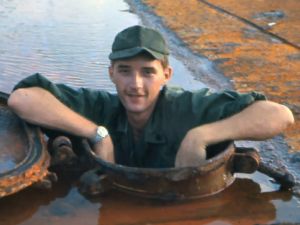 Dear Uncle Ray,
It has been 38 years this April that you have passed. It has taken this long, but the family has finally gotten answers about what had happened that terrible day April 5, 1970. We are all so proud of you. You are a true hero who gave the ultimate sacrifice for your country. Your sisters Audrey, Janie, Kathy and brother Chris and all of your nieces and nephews will always keep your memory alive.
We are so grateful to the wonderful men of your unit, F Troop 8th Cavalry, Americal Division ... the "Blue Ghosts". They have been so helpful to our family and we will always be grateful to them. We have also met some of your close buddies. I know that you already know, but your dog tags have just been sent home also. The family is at peace now. We will never forget you.
Your niece,
Debbie Ingersoll
debbieingersoll@charter.net

A Note from The Virtual Wall
On 05 April 1970 an OH-6A (tail number 68-17151) from F Troop, 8th Cavalry was shot down while on a recon mission about 10 kilometers west-northwest of Tam Ky. The helo carried three crewmen:
WO1 Gary W. Norton, pilot;
SSG Myron W. Berg, Woodland Hills, CA, crew chief; and
SP4 Raymond C. Graver, Wantagh, NY, observer.
SP4 Graver was killed in the crash; WO1 Norton and SSG Berg were badly burned. Both were taken to the 91st Evacuation Hospital at Chu Lai, where SSG Berg died on 08 April. WO1 Norton survived his injuries.
---
With all respect
Jim Schueckler, former CW2, US Army
Ken Davis, Commander, United States Navy (Ret)
Memorial first published on 16 Apr 2008
Last updated 04/26/2008