30 Oct 2002
"To live in the hearts we leave behind,
is never to have died."
(Thomas Campbell, circa 1888)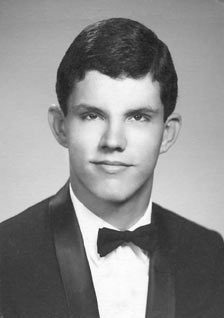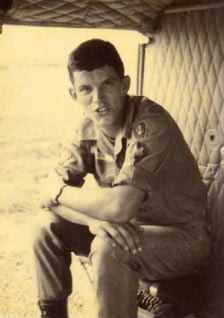 Herbert Rand, David Griffin, Gerald Slingerland


---
GRIFFIN FAMILY
| | |
| --- | --- |
| Ann, David, and George | George and Maxine |
We were a family of five. Dad was a Chief Pharmacists Mate in the Navy during WWII serving in the Atlantic on the destroyer escort, USS INCH (DE-146). After the war, our parents moved to Tampa where they later owned the Seminole Pharmacy. After David graduated from Hillsborough High School in 1965, our father gave David two options: college or the military. David enlisted in the Army.
David was an endearing charismatic fellow who liked playing his guitar and getting together with his buddies to play poker and billiards. Being protective of his little sister, he wouldn't let his friends date me, "My friends are like me, and I won't let anyone like me date my sister". My friends thought he was a hunk.
Even though we knew every day held a danger to his life, news of David's death ripped the spark from our lives. The insanity of war touched our family. Fortunately he had come home for a month's R&R the previous June to see me graduate. One late night, in tears, he told me, "I don't want to come back. I have seen and done far too much for a young person of my age, which isn't right. There isn't anything left for me to do in life." Adjusting to civilian life was too difficult. People would ask if he had killed anyone. I never asked (he was a gunner), and he didn't tell. When he got on the plane to head back to Viet Nam, he didn't look back at us. He only had one month left of his tour when he valiantly died.
What is tragic is a faulty nut caused his copter to crash in a rice paddy, killing all four on board on October 26, 1967. He was only twenty. According to an eyewitness, though they were in a non-combat zone, they were receiving fire from behind. When the pilot spun the aircraft around to shoot back, the blade retention nut on the main rotor cracked from the stress causing the aircraft to spin out of control, crash, and burn in a rice paddy. They were probably dead before the ship hit the ground. The centrifugal force of the pivoting copter likely broke their necks. Knowing they didn't suffer much was a great comfort to us.
David's funeral was impressive for so many people came to show their regards. The somber ride to the cemetery became special when the motorcycle escort stopped a train and held the armguard up allowing the long trail of cars to cross the tracks. This officer's action symbolized respect for a fallen soldier.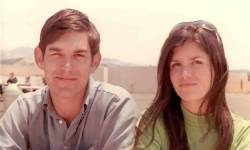 George and Ann Griffin in June 1968
---
AWARD OF THE AIR MEDAL FOR HEROISM
HEADQUARTERS
1ST AVIATION BRIGADE
GENERAL ORDERS NUMBER
1158
1 May 1967
Awarded: Air Medal (Fourth Oak Leaf Cluster) with "V" Device
Date action: 15 February 1967
Theater: Republic of Vietnam
Reason: For heroism while engaged in aerial flight in connection with military operations against a hostile force:
Specialist Griffin distinguished himself by his heroic actions on 15 February 1967 in the Republic of Vietnam. Specialist Griffin was serving as a crew member of a transport helicopter participating in airborne assaults against a well entrenched Viet Cong unit. The initial assault landed the Vietnamese Rangers unit in an area surrounded by insurgents in fortified positions. Immediately the extremely intense enemy fire downed six helicopters. Unhesitantly he volunteered to fly into the enemy's murderous fire to rescue the downed positions. All during the many medical evacuation missions, Specialist Griffin courageously fought to allow extractions of the numerous wounded. Completing these missions, he immediately volunteered to participate in several extraction missions. Throughout the day Specialist Griffin's determination and devotion to duty saved many lives and allowed the completion of his many missions. His actions were in keeping with the highest traditions of the military service and reflect great credit upon himself, his unit and the United States Army.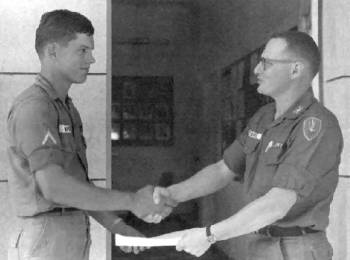 An oak leaf cluster represents more than twenty-five aerial missions over hostile territory in support of counterinsurgency operations. David posthumously received a total of 22 oak leaf clusters.


---

LETTERS FROM VIET NAM

Heroes don't talk. They rarely let their family members know what is truly happening to them. For example, the day after his heroic actions, David wrote us a letter stating "By now you must know I have transferred to the 175th Avn Co in Vinh Long. I am still a door gunner. You must excuse me for not writing, but I have been on a big operation, averaging 4 hours sleep a night." That was the extent of describing his job. He never mentioned his bravery.

From the following two letters, you can get a rare glimpse into David's thoughts about life and death. He was 19 years old. Sandy was our family dog of many years.

June 22, 1966

Dear Ann,

I am sorry to hear about Sandy. But to be harsh, that's life. Life seems so cruel and strange at times when you grow older. But always remember that Sandy lived a good long life. He was happy most of the time and always remember the good and funny times. Sandy will always be a part of our lives since I was 8 and you were 6. So remember those memories and never be sad. Remember when LBJ's dog died? I read that in the newspaper and on the same day I saw twenty-three bodies brought in the heliport. 23 men with the promise of youth and the enjoyment of life gone forever. I was so angry because all the paper said was poor LBJ dog is dead. I couldn't give a damn less about his dog. You should be happy you're young and free. You are now entering the best part of a person's life. Be grateful for what you have and believe me you have a lot. I tell you we have it a hell of lot better than these people, that is a joy in itself. Don't cry about Sandy. He and you both were happy. But now he is gone and you must make the best of it. Keep writing, gets kind of lonely some times.

Love David

November 16, 1966

Dear Ann,

What's up? I received your letter yesterday. It was nice hearing from you. I showed my buddies your picture. They said they couldn't understand how anything so sweet and good looking could be my sister. Ann, you are becoming a very beautiful young lady. But both you and I know the Griffin boys are dirty young men, I would like to give you a word of advice. I for being so young have been around and seen and done a lot of things. I think, far too much, for a person of my age. When I was your age, which was not too long ago, I was usually unhappy. I won't tell why I joined the Army, because that is personal. But I hate it. But the Army made me realize how stupid I was. The people over here are less than animals. They have nothing to live for. We Americans are so lucky, we have every thing we could want. Over here life is cheap. It is nothing for a father to sell his children into slavery. I have seen little children pimping for their mothers and sisters. They do anything to fleece money from a G.I. even murder. Anything a person can think of in his depraved mind, he can do with the help of money. That is not just over here but also in other places in the world. Home we have love of family which no amount of money can dissolve. There is no reason on earth why we should be unhappy. What a joy it will be to go home to that way of life. To eat good food, to go to the beach, to sleep in a soft bed. To be with people all the time who are not trying to get your money. I know the people in the states are not all that good, but back home you don't have to mingle with that kind. America is the land of promise. You can make your own life. You can make life so enjoyable. It is all up to you. Happiness is a state of mind. I know you are concerned about the rest of the family, but you can't live other peoples' lives. Be as helpful as you want, but remember yourself. Enough of that.

As you can see I am trying to learn to type. I am not using one finger, but eight fingers and two big toes. In the near future I hope I be able to type half way good. How are you doing in school? Are you making good grades? How many boyfriends do you have? I use to think of you as a little kid. But you have grown up. I bet you have some real good looking friends you want to fix me up with. I can promise I'll be able to see you receive your pigskin. How do you like the pictures I sent home? What do your friends think of your brother, the good-looking war veteran? You are going to have to write me more or I will get piss-off. There is only one of me. I don't think the world could stand another one like me. At least that is what everyone tells me. Oh, I can't find a damn thing to buy for x-mas. Please don't buy anything for me. I really can't use anything over here or really need. Show mother this part, "Hi mom, what's new." Well I give you both my love and sign off.

Love David.




---

TODAY

Thirty-five years have passed since David's death. My parents and oldest brother, George, are gone. So much has happened since then - much for the better. One is the decline of communism. Back then, in my political science class at USF, the "domino theory" was discussed. It was one reason why the USA was in Viet Nam. Communism had to be stopped. We had to draw the line. Did our presence there help change global politics? Was it worth the cost?

Freedom is not free. So many lives over the centuries have been given and will be given for the price of freedom. So many families have endured the pain of loss. David is correct when he wrote, "America is the land of promise. You can make your own life. You can make life so enjoyable. It is all up to you. Happiness is a state of mind."

One cannot live in the past for the past is gone. The future never comes. The present is now. It is this moment, this present, that is the gift of life.


---

Update
20 Aug 2004

Life has interesting coincidences. After discovering 'The Virtual Wall' and reading some other memorials, I left wanting to know more about that person. To me each name represents family, friends and the people who served with that individual.

I created David's memorial page so his words can be remembered, his family represented and his friends comments posted if any came looking. I felt compelled to complete it immediately. For the first time in years, I read his letters and came away with a different outlook then when first read as a teenager. Though I have accepted his death years ago, I cried remembering him and the family that was. Shortly after creating this page, a very close soldier friend of David's e-mailed me. What were the odds of that happening so soon? I was extremely excited this man, Ed, took the time to share his thoughts and kind words with me. He gave me more insight about being over there in Vietnam and that fateful day.

The following are excerpts from Ed's letter:

Ann -

I lost a friend last week to an accidental drowning when his ATV broke thru the ice after ice-fishing. It somehow prompted me to go the internet and look for info about other good friends that I have lost. I looked at the 114th AHC website and saw your entry in the guest book. I also went to the Virtual Wall link and again saw your entry. Your entry was great and the pictures . . . WOW! David was a really really close friend and there weren't many things that we didn't do together. Most of the guys called him "Grif". I always called him "G" (as he called himself "Dirty G"). They called me "Krum".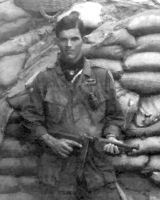 Your Virtual Wall entry was great and the pictures of "G" were both haunting and wonderful at the same time. 35 years had clouded my memory of what "G" looked like, I could only remember his silly grin. There has never been a day gone by that I have not thought about "G", "Sling", Sam, and Mr. Bentson. I was in the other squad of 2 gunships that were flying in the operation that day. We flew "cover" while their wing (including Sam's brother) landed and checked out their downed chopper.
In Vietnam, when someone died they just seemed to disappear. Yea, there was a memorial service and we all grieved, but the war didn't stop. You never saw that person's family. You never really made your peace - you just got madder (or more scared).
"G" was a great friend and a man's man. In a unit that took pride in their "toughness", without a doubt - "G" was the "toughest" soldier I have ever known.
I loved your brother like a brother and I still miss him. Thanks for your story and pictures.
I am sorry for YOUR loss.
Thanks,
Ed Krumbiegel,
Cobra's Crew chief (on hog "Chuck Crusher II")
Excerpts from other letters from Ed:
I was in Vietnam from February 1967 to February 1968. I was a "slick" crew chief before transferring to the Cobras around May. The Cobras were a gun ship platoon in the 114th and was made up of approximately ½ pilots (both commissioned and warrant officers) and ½ crew (enlisted men). Each half had their own living quarters. "Grif" was already in the Cobras when I transferred and I considered him a "veteran". I remember flying my first Cobra mission with him.
Each helicopter was assigned a "permanent" crew which consisted of 3 people: the aircraft commander, the crew chief, and the gunner. A flight crew consisted of 4 people: aircraft commander, pilot, crew chief, and gunner. We often flew other ships or with others when someone had a day off or a ship needed repair, etc.
Sam (Mr. Hunt) was the aircraft commander, "Sling" was the crew chief, and "Grif" was the gunner. They were assigned to the same helicopter. I believe their ship was the original "Chuck Crusher" and it was also called Cobra VII (seven).
I became the crew chief on "Chuck Crusher II" (which was named in honor of the original) after my previous ship "Hungry" met its demise.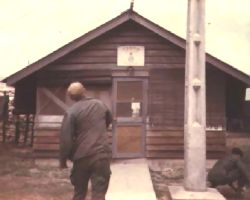 "The Cobra Snake Pit"
The Cobra's enlisted crew bunked in a hooch called "The Cobra Snake Pit".
We were a close knit group that for the most part hung out together. Within this group, "Grif", "Sling", "Oto", "C", "Swan", me, and several others were especially close. We often went to town together. A couple of drinks, etc - and a lot of bullshitting.
Vietnam has been described as sheer boredom interrupted by sheer terror.
"Grif" was a guy that loved to live life at the extreme edge. He was fun to be around, he reduced the boredom. He hated the Vietnamese, both the enemy and the rest of them as well. At the time we all did - I guess. He'd say never trust any of them. After his death we just hated them more.
We called Mr. Bentson by "Mr." because he was a warrant officer. As enlisted men, we were supposed to call officers "Sir", rank and last name (i.e. Captain Miller), or in the case of a warrant officer "Mr.". I guess we didn't know him long enough to call him Russel or Russ.
Officers and warrant offices had their own separate quarters, their own bar (officers club), and they were not supposed to fraternize with enlisted men. Most warrant officers were not career men and after we worked with them a while we became close. We still never went to town with them but a few of them would smoke with us while on base.
We also probably called Sam "Sam" because his brother called him Sam. His brother finished his original tour and extended to serve with Sam. I think he was originally in the 101st Airborne.
Most things that I remember about your brother are things that I wouldn't talk about. They were "war" things that are impossible to relate to. I remember when he returned to Vietnam and said that he couldn't talk about Vietnam while back in the US, people didn't understand. At the time I wasn't sure exactly what he meant. I didn't really understand until I returned home. I'd tell a story to someone and receive "the look". I learned to just shut up. Anyway . . .
I remember "Grif" always carried a screwdriver with him in his ship. The screwdriver was at least 2 feet long. He said if they were ever forced down and they ran out of ammo that he'd use the screwdriver as a weapon. After saying it, he would laugh. We both had a really warped sense of humor.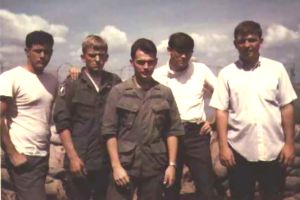 Five guys from the 114th
"Krum" is in the center,
"C" is 2nd from the left and
"Swan" is 2nd from the right.

---
Comments:
I love the power of the Internet. 'The Virtual Wall' has given me the incredible opportunity of telling a little about my big brother and reading about other lives sacrificed in the name of war.
The dedicated volunteers have done a superb job creating and maintaining this important historic web site. One hard working volunteer wrote to me and others the following statement,
"We appreciate the opportunity to help memorialize the men and women of the Armed Forces who died in Vietnam. While these are your memorials, they are in a sense ours as well ... Thank you for allowing us the privilege of remembering their service to our country."
Many people are reluctant to talk about being over there, so I am deeply indebted to Ed for sharing a little bit of himself with me. He reminded me of some things about David I had forgotten. In a sense, he gave a little of my brother back to me. If I had not followed my instincts to complete this memorial immediately, I probably would never have been contacted by Ed. I would have missed his wonderful gift.
Thank you for visiting David's Memorial.
A memorial from his sister,
Ann Griffin Lambeth
al_lamb@bellsouth.net