"Gooch," as he was known, was born December 29, 1949, to Kenneth and Violet L. Gucofski, in Somerville, New Jersey, their only son. They lived in Neshanic, for 15 years, then his family moved to South Fort Myers, Florida in 1964, and Gooch attended Cypress Lake High School. He had an older sister Cynthia, and younger sister Sandy.
He was drafted, into the Army in May 1970 and began his tour of duty in Vietnam on October 27, 1970. He was killed when the base camp, 12 kilometers west-southwest, of the Khe Sanh Airfield, came under enemy artillery fire. He was the only one from his battalion to be lost.
However, 3 men from another 5th Infantry Division Unit were killed in action on the same day. The 1st Battalion, 77th Armor lost 3 men when their night defensive position came under an artillery, rocket and mortar attack by unknown size enemy force. They were:
In addition to the medals posted above, he received the Vietnam Gallantry Cross Unit Citation, and Sharpshooter Badge with Rifle Bar. He is survived by his parents and two sisters. PFC Gucofski's ashes were given to his younger sister in South Fort Myers and are in his Place of Honor.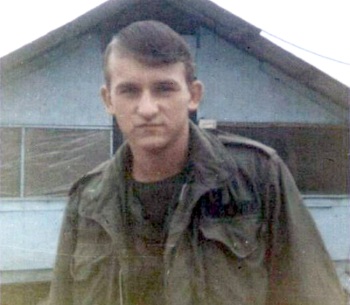 ---
- - The Virtual Wall, September 15, 2014