Below is 1964 Year Book photo for 1964 graduation from Lawrence High School. Paul's yearbook said he was interested in becoming a certified public accountant. His activities included Boys' Debating Societry for 4 years and hobbies were swimming, boating, and fishing.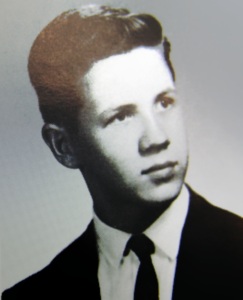 Exerpt information from the Lawrence (MA) Eagle-Tribune Tuesday, Nov. 1, 1966 Page 9

CHESTER ST. SOLDIER KILLED IN VIETNAM

A 19-year-old Chester Street soldier Monday became the sixth Greater Lawrence resident to die in the Viet Nam war.

Pfc. Paul D. Guimond, son of Mr. And Mrs. Maurice Guimond, 61 Chester St., was killed in front line action near Pleiku, Viet Nam. The 25th Infantry Division, of which PFC Guimond was a member, was hit by North Vietnamese army regulars near the Cambodian border 230 miles north of Saigon

PFC Guimond arrived in the overseas country on September 16th. His parents received a letter from him Monday.

An unconfirmed report was that PFC Guimond died of wounds suffered when he was hit by exploding shell fragments last Friday.

PFC Guimond, a 1964 graduate of Lawrence High School, was a classmate of PFC Joseph T. Gile, Jr., Lawrence, who was killed in the Viet Nam fighting earlier this month.

PFC Guimond formerly worked at the Superior Shoe Company before enlisting in the army on December 28th, 1965. He was a student in the evening division of studies at Merrimack College, North Andover.

The Viet Nam war victim attended Sacred Heart Church and was a member of Explore Post 13, sponsored by the parish.

Besides his parents, he is survived by four brothers. Thomas, 31, of 59 Chester St., Joseph, 27, of 230 High St., John, 25, of 545 Howard St., and Raymond, 18; a sister, Anne Marie, 11, the latter two living at home with their parents; also several nieces, nephews, aunts, uncles and cousins.

He will be buried in Sacred Heart Cemetery, Andover, MD

PFC Guimond was the sixth casualty in the Viet Nam action from Greater Lawrence.