17 Jun 2008
Their Boy, My Man
The year was '69 and he was called; their boy, my man.
They said, "the time had come to serve your country".
So off he went, their boy, my man.
"What's it all about?" They asked their boy,
I asked my man. Who's to say, who's to know?
He just knew he had to go, their boy, my man.
It was a battle, though not our war,
and we cried as he walked out the door.
There was nothing to gain, oh, so many to lose.
Why couldn't he have the choice... to choose?
Their boy, my man
We recieved his letters, read his despair.
Oh God, just why was he there?
Then the inevitable, we knew it could be,
the cold heartless telegram, he's missing, you see.
They regret to inform you, not something they choose,
but just who's the one who had to lose?
Their boy, my man.
They were his parents, he was their son.
They were allowed twenty years, then it was done.
I was his wife, young, in my my teens,
full of a lifetime, along with our dreams.
We thank God for at least that little time.
I thank Him always, for making him mine,
for he was their boy, he was my man -
no thanks to Viet Nam.
MEMORIES
How tall and dark he was
Holding me in his tender embrace,
His cool blue eyes melting my heart,
But for the last time, that night.
He's going away from me;
Going to war in Viet Nam.
Now I live with memories,
Of the good times we had.
Walking hand in hand along the beach,
his sweet kisses just for me.
I hate that telegram that came,
And said
He's dead.
What good are memories?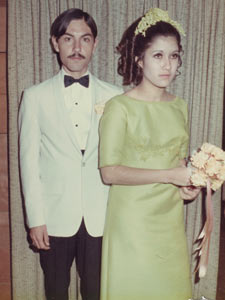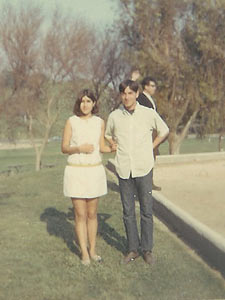 Rose Marie & Peter David Guzman - a cousin's wedding, February 1968.


Married September 12, 1969
Til death do us part ... 4 months later, 1/28/1970.
Until we meet again,
your wife,
Rose Marie Guzman-Luna
moonrivers2-sportnut@yahoo.com


---
ADDITIONAL VIETNAM CASUALTY LISTED
Specialist Fourth Class David Guzman, 20, son of Mr. and Mrs. Pete Guzman of 3151 Pyrites St., was killed in action in Vietnam Jan. 28, 1970, while serving with the 101st Airborne Division.
Guzman, whose name was not included in the list of Northeast Los Angeles war dead, brings the total for the local area to 10 known dead. Anyone with information about other Vietnam deaths can contact the paper at 254-5111.
BRONZE STAR
Guzman was awarded the Bronze Star with V device, first oak leaf cluster for his heroism in ground combat on Jan 28, 1970. Guzman, who served as a grenadier in the third airmobile battalion of 506th infantry, attempted to rescue a fallen comrade who was injured in a North Vietnamese Army ambush.
He was wounded while attempting to crawl forward to reach the wounded man, and opened fire on the enemy position with his grenade launcher. Refusing medical care, he leveled covering fire for the remainder of his platoon and was mortally wounded.
The citation from the Army said. "while engaging the insurgents, he was mortally wounded. His complete unselfishness at the ultimate sacrifice of his own life prevented his element from receiving many more casualties."
Guzman was also awarded the Purple Heart, and an Air Medal for completion of 25 aerial flights in Vietnam.
Guzman's widow, Rosemarie Guzman Luna, 21, of 4626 Zane St., reported her late husband's death last week to Northeast Newspapers. Mrs. Luna remarried last year. She and Guzman had been married one week before Guzman shipped out for Vietnam on Sept. 17, 1969.
Guzman, who is buried at Resurrection Cemetery, was a student at Wilson High and a member of the football team before he entered the Army. He is also survived by his brother and sister, Larry and Shirley Guzman