Richard Alfred Gwinn
First Lieutenant
A CO, 1ST BN, 508TH INF RGT (ABN), 82 ABN DIV
Army of the United States
24 December 1947 - 26 September 1969
Miami, Florida
Panel 17W Line 010
The database page for Richard Alfred Gwinn
26 Sep 2003

Thank you for your service to your country and your friendship and leadership to your fellow platoon brothers. Every time I see the flag or hear the Nation Anthem, I see your face. You live on in my heart!


---

13 Jul 2004

As I grow older I know my time is coming soon. Your death was not in vain. It's made me take a closer look at my life and be thankful for so many of the wonderful gifts that God gave. I got to have a wife, son, daughter, and now three grandkids, all who have stood with me though the trials and tribulations of my life. Every time I see your face in my heart it reminds me that traffic jams are not so bad after all. Losing a job or having my credit rating fall isn't the end of the world! You see I GOT TO LIVE A LIFE IN AMERICA. So it's still my responsiblity to be a better husband, dad, grandfather and friend. You have reminded me NOT TO WASTE MY LIFE! I say your name often. Your memories will live on with me till I see you in heaven. I also thank God for giving me a second chance to live.

Thank You Jesus for helping me understand that I could live a full life in peace!

Paul Arca
RTO, 4th Plt, A Co 1/508 ABN INF
82ND AIRBORNE "69"


---

From LT Alfred Gwinn's RTO,
Paul Arca
parca@aol.com

01 Apr 2007

I was a classmate of Richard's at North Georgia College. Richard was the smartest guy I ever met. He had graduate schools calling him with assistantship offers. He was a great guy with a mischievous sense of humour. I still think it was such a waste for him to go like he did but I, in no way, mean to disrespect him or the others who served in that war.

I think he had a child with Sheila. I sometimes wonder how he/she turned out.

From a friend,
Jerry Leger
Box 70254, ETSU, Johnson City, TN 37614
leger@etsu.edu

A Note from The Virtual Wall
The 4th Platoon, Alpha 1/508, lost two men on 26 September 1969 in an engagement 5 kilometers south of Duc Hoa - 1LT Richard A. Gwinn and Cpl Eric Allen Ream.


---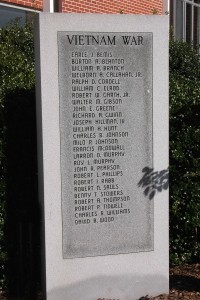 North Georgia College is "The Military College of Georgia," a Senior Military College.
Neither as large nor as well known as some of the Senior Military Colleges (The Citadel, VMI, Virginia Tech, Texas A&M, and Norwich) The Military College of Georgia has provided commissioned officers to the Armed Forces since the 1870s.
The twenty-seven members of North Georgia's Corps of Cadets who died in Vietnam are remembered by a memorial stone on the campus. Similar stones remember the men who died in the World Wars, Korea, and more recently in the Middle East.
The point-of-contact for this memorial is
his RTO,
Paul Arca
480 Bethany Ct, Valley Park, Mo 63088
parca@aol.com

---
With all respect
Jim Schueckler, former CW2, US Army
Ken Davis, Commander, United States Navy (Ret)
Memorial first published on 26 Sep 2003
Last updated 09/10/2007