Soldier who died in Vietnam remembered at funeral
FAYETTEVILLE, N.C. -- Kenneth Hanna's family spent decades waiting to welcome him home and say goodbye.
The 34-year-old Army sergeant major vanished in Vietnam in 1968 and was listed as missing in action. Ten years later, that status was changed to killed in action.
But it was only in November 2003 that officials recovered the remains of Hanna and another soldier, Charles Lindewald. Hanna's remains were positively identified last fall through dental records and anthropological analysis.
His remains were flown to North Carolina on Jan. 7, and he was laid to rest Saturday after a funeral at a church filled with family, friends, soldiers and veterans.
"It meant closure for the family," his wife, Mary Hanna, said afterward.
Hanna was one of five Green Berets listed as missing in action on Feb. 7, 1968, after North Vietnamese tanks overran a Special Forces camp during the Battle of Lang Vei. He was weapons sergeant for Charlie Company, Detachment A-101 of the 5th Special Forces Group.
Mary and Kenneth Hanna were married for 13 years when he died. They had two daughters and a son.
"He was a wonderful soldier, a wonderful husband and a wonderful father," Brig. Gen. Mike Jones, commander of the U.S. Army Special Forces Command (Airborne) at Fort Bragg, said at the funeral.
"This was a man of resolute purpose," Jones said. "A professional who believed in what he did. A Special Forces soldier who decided to be the best he could be."
At the funeral, more than 100 veterans and soldiers filled the right section of the main sanctuary. Soldiers from the 3rd Special Forces Group (Airborne) served as pallbearers.
The balcony held about 75 members of Rolling Thunder, a veterans group that supports POW/MIA issues. Most rode motorcycles and led the funeral procession from the church to the cemetery near Spring Lake.
A light gray casket at the front of the church was covered with red, white and blue flowers. Four other arrangements of red, white and blue flowers flanked the casket. A framed collage of pictures of Hanna rested on an easel nearby.
At Sandhills Veterans Cemetery, seven soldiers from the 3rd Special Forces Group fired M-16 rifles in unison three times for a 21-gun salute.
Pallbearers folded the flag that draped the coffin, and Gen. Jones presented it to Mary Hanna.
Alvin Jenkins was about 6 when Hanna, his uncle, was listed as missing in action.
"I remember him being a strong man," he said. "One of the things I learned from him that is most important is to hold to principles."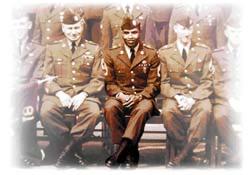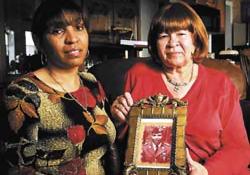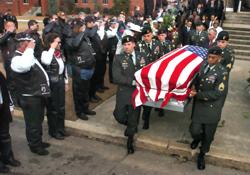 Photos:
(a) Fort Bragg unit photo from the mid-1960s
(b) Daughter Kenetha Garcia and wife Mary Hanna
(c) Funeral, First Baptist Church, Fayetteville, NC.
© The Herald-Sun
Durham, North Carolina
16 Jan 2005
Reproduced under 17 USC §107