Michael James Hatfield
Warrant Officer
190TH AHC, 145TH AVN BN, 12TH AVN GRP, 1 AVN BDE
Army of the United States
17 August 1948 - 22 March 1970
Grayling, Michigan
Panel 12W Line 033
The database page for Michael James Hatfield
9 May 2002

I have gone on with my life without you being here, I have tried my best to be happy, but after all the years that have gone by I still miss you and I still love you as I did the day I met you. Time does make it a little easier to deal with but time can never take away the pain and loss I feel.

I was 2 months pregnant with your child when you were killed. I have a wonderful daughter and a grandson to help me keep you alive in my heart. You may be gone but you will never be forgotten.

A memorial initiated by his wife,
Janet Hatfield


---

22 Mar 2005

Thirty six years I have been without you being beside me, with all the years that have gone by I have never been without you, you are always with me and always in my thoughts.

Janet
(Deceased)
02 Dec 2002

Mike Hatfield was one of the nicest guys I ever had the pleasure of meeting. I will always remember the cheerful outlook he had on life. I will never forget his excitement over finding out about the baby he and his wife were expecting.

I was the aircraft commander of the helicopter directly behind Mike's. If I close my eyes I can still see the rockets hitting their aircraft as it came to a hover in the Landing Zone just as if it happened this afternoon. Everyone that knew him lost a terrific friend that horrible afternoon. God bless the memory of Mike Hatfield.

David Bailey
P.O. Box 272, Roberta, GA 31078
dbailey@gnat.net
15 Sep 2003

I was the aircraft commander of the helicopter with Michael on March 22, 1970. His 'hootch' was next to mine and we shared many good times while he was in-country. I can think of no one, before or since, who has made such an impression on me. He was genuinely a nice guy and I think of him often. He read me the letter from his wife when she found out she was pregnant, and the next week he was gone. There are a few things in this life that make no sense and his loss is certainly one. Tomorrow, September 16, 2003, I will travel to Grayling Michigan to visit Michael and tell him of my son, also named Michael.

Jonathon E. Logan
'Spartan 17'
1360 N. Mountain Avenue
Claremont, CA 91711
909 621-7113
cell 909 261-3639
Alkylaw@yahoo.com
06 Jan 2004

Hi daddy,
Just a bit of bad news. Your mom passed away December 29, 2003, and I really hope that she gives you a great big hug from me. I have a hard time believing in that stuff but if it is all true the first hug you get from her is from me. I think about you EVERY day and what it would be like if you were still here. Don't tell anyone I think about that, it is just between you and me. You will always have the biggest part of my heart and no one can take THAT away from me. I love you and miss you.


---

20 Jan 2005

Hi dad. Just thinking about you again and having my cry. Please look over mom, she needs you right now. I love and miss you, ME


---

Your daughter
Shelly Hatfield-Rioux
shellyandlouie@charter.net
A Note from The Virtual Wall
On 22 Mar 1970 the 190th Assault Helicopter Company was supporting an air assault into a single-ship, hover-down landing zone consisting of a rocky ledge surrounded by jungle. As UH-1D 65-09629 settled into the LZ it was hit in the left rear crew compartment by a rocket-propelled grenade which blew off the tailboom, engine, and rotor system. The copilot, WO Michael J. Hatfield, was killed instantly by head injuries and four others were wounded.


---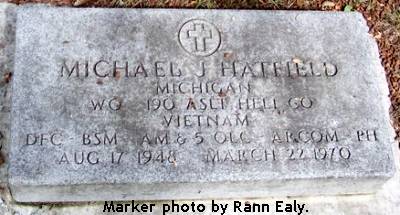 Michael James Hatfield,
Warrant Officer, Army of the United States,
rests in the
Elmwood Cemetery,
Grayling, Crawford County, Michigan.
---
With all respect
Jim Schueckler, former CW2, US Army
Ken Davis, Commander, United States Navy (Ret)
Memorial first published on 9 May 2002
Last updated 01/14/2013
Copyright © www.VirtualWall.org, Ltd 1997-2013