12 Jan 2005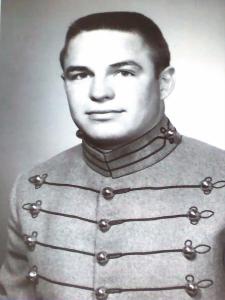 Harry Hayes, USMA 1968
I will describe Harry as Terry Butler, who was a close friend, teammate, and classmate, described him to me. When I mentioned to Terry that I was researching one of his classmates who was killed in Vietnam he immediately said "Harry Hayes". The admiration for his friend was evident in the words that he used to describe him. Tough, honest, funny, a good friend, a leader, these were just a few of the words that he used to describe this 1968 graduate of the USMA. Terry went on to tell me, with some personal pride, that the middle name of one of his grandchildren was Hayes. Terry had spoken about his friend Harry so often to his sons, as they grew up, that one of them had used Harry's surname as his child's middle name. What better lasting monument to the life of Harry E. Hayes?
Another local resident, who had coached Harry in peewee football, told me that Harry was the kind of kid who just wanted to play no matter what the sport. He was the guy that you could give the ball to and tell him you needed three yards and Harry wouldn't stop running until he had at least five. He said that he could still see Harry running down the field with two or three people hanging onto him and he would just keep running.
According to the official description of the events that led to Harry's death, when his unit was ambushed the opening fire killed three men and a working dog. Lt. Hayes, his platoon sergeant, the dog handler and the working dog were all killed in the opening seconds of the engagement. Harry was leading from the front, just as his friends here knew he would be.
Mark Sullivan
msullivan364@hotmail.com