Corporal Heibel died in the vicinity of Quang Tri Province, Republic of Vietnam as a result of gunshot wound to head and neck, with 3rd degree burns of both hands from hostile rifle fire while in a defensive position. On the same day, 4 other men from the First Marine Division died, all from different units, so it is unclear if the defensive position was on the Dong Ha Combat base, where the Communication Support Company of the 7th Comm battalion was located or if had he gone out on patrol with another company.
Cpl Heibel was survived by his parents, Eula Frances (1925-1969) and Robert Oliver Heibel (1921-1999), West Ash Street, Colombia, Missouri. They were buried with their son in Memorial Park Cemetery, Columbia, Boone County, Missouri. At the time of his death, Daniel was also survived by three brothers, Robert O Heibel Jr. and Joseph Heibel, both of Columbia, and John Heibel of St. Charles; two sisters, Joan Heibel Caldwell of Springfield and Teresa Heibel White of Fulton.
Four of Dan's buddies from Hickman High School, Columbia, Missouri - paying their respects on Memorial Day, May 2013 - - a tradition - - pictured from left to right - Ron Blacklock (Vietnam) - Carl Smith (Vietnam) - Eddie Breedlove (U S Navy) and Gary Blackmore(Vietnam)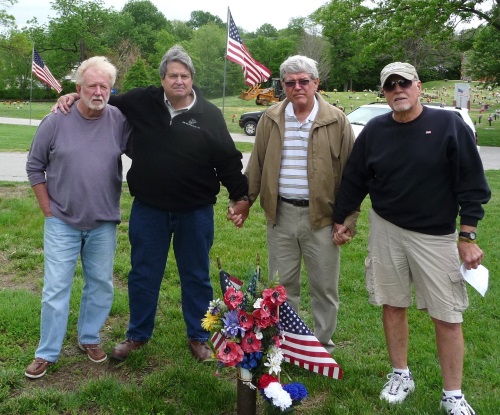 The other two men from Hickman High School who were paid the respect of the men above were Lance Corporal Larry Harold Coleman, Fort Wayne, Indiana, and Corporal Stephen Lee Irvin, Columbia, Missouri.
---
- - The Virtual Wall, October 2, 2014