Robert Joseph Henneberg
Lance Corporal
3RD PLT, H CO, 2ND BN, 7TH MARINES, 1ST MARDIV
United States Marine Corps
27 February 1947 - 27 July 1966
San Francisco, California
Panel 09E Line 080
The database page for Robert Joseph Henneberg
25 Dec 2001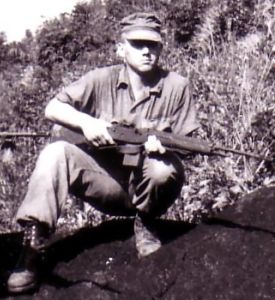 Robert, You are not forgotten.
We will meet again.
Jim Herren
8200 Bayshore Dr. #12 Treas. Isl. Fl. 33706
jwherren@earthlink.net

12 Nov 2003

Your extreme sacrifice,
By giving your life for our country
Will never be forgotten.
Semper Fi

From a friend,
Tony R. Valin
94-248 Keaolani Street, Mililani, Hawaii, 96789
E-Mail will be forwarded by the
Webmaster@VirtualWall.org

A Note from The Virtual Wall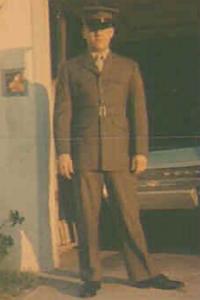 On Veterans' Day 2003 Bill Henneberg invited our attention to Barbara Henneberg's memorial to their brother.

The two photographs are taken from that memorial - the one immediately above was taken in December 1965 while he was home for Christmas - as is the following exerpt from the after-action report:
"27 July 1966. At 0700H the advance eastward in zone was continued with Companies "E" and "G" leading; Company "H" in trace. Only light sniper fire was encountered in the advance. ... At 0942H at BS-674889 (in the vicinity of Tra Bong village), Company "H" received one round small arm fire, resulting in one USMC KIA. The sound of this shot indicated it was definitely from a high-powered rifle, fired from 400-600 meters."
E-mail intended for Mr. Bill Henneberg will will be forwarded by the Webmaster@VirtualWall.org , while Barbara Henneberg may be contacted at tasharose@earthlink.net
.

Lance Corporal Henneberg is remembered
by his brothers from
Hotel 2/7 Marines
The point-of-contact for this memorial is
a friend,
Jim Herren
8200 Bayshore Dr. #12 Treas. Isl. Fl. 33706
jwherren@earthlink.net
25 Dec 2001
---
With all respect
Jim Schueckler, former CW2, US Army
Ken Davis, Commander, United States Navy (Ret)
Channing Prothro, former CAP Marine
Last updated 07/02/2004